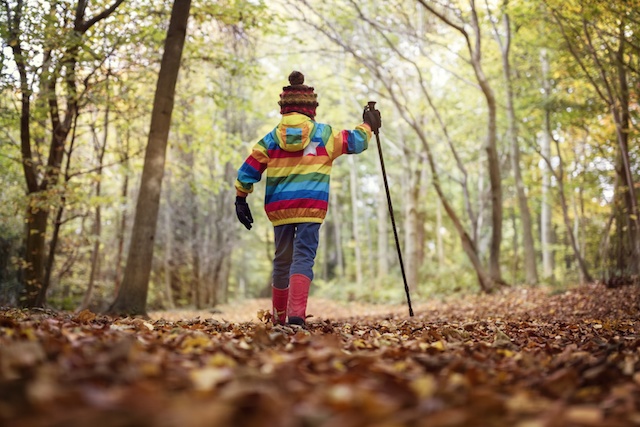 As the season changes and the days get cooler, it becomes even more challenging to get kids out from behind a screen and outside to play. Imaginative and outdoor play is key to building a healthy body and brain. The following ideas are great ways to encourage your child with ADHD, learning differences and behavioral issues to go out and play even when it's cold outside.
Pile On the Fun
Autumn not only brings colder weather but also a ton of leaves. A basic part of every childhood, leaf play offers incredible developmental and sensory opportunities. Raking leaves into huge piles provides endless play opportunities including "nest building," running and jumping into large piles, and mixing it up with proprioceptive and vestibular benefits by adding spins and tumbles. Playing in the leaves builds gross motor function, increases sensory input and helps to expend energy - and is just plain fun! Grab a rake and get to it.
Gather and Roast
With fall comes a family favorite past time of roasting over an open fire. This activity definitely requires adult supervision when it comes time to start the fire, but you can get the kids started with the task of going outside to collect sticks and kindling - which builds observation skills to find the right stick and fine motor skills to pick it up and break it down. Be specific in your request to add an extra challenge by requesting sticks of a specific size or type. And keep the roasting part healthy (and Balance 360 approved) by replacing marshmallows with apples or nitrate free hot dogs.
Scavenger Hunt
Acorns, pine cones, a picture of a squirrel eating a nut…the possibilities are endless for a fall or winter themed scavenger hunt. Put an educational spin on the search by requiring objects from the alphabet or using items on the list to spell certain fall or winter themed words.
Pretend Camping
Encourage kids to enjoy the outdoors even when it's cold by pitching a tent or setting up an outdoor hammock, like an ENO - which is perfect for kids who like to be wrapped up or the pressures of a hug to calm down. The swinging motion of a hammock is also great vestibular input for sensory integration and easing anxiety in some children.
Hiking and Observing Wildlife
Cold weather is a great opportunity to teach children stillness and quiet observation. Animal and wildlife sightings are much easier once the leaves fall, but the reduced activity of the animals requires quiet and patience. Take an hour to sit quietly with your child in the woods and encourage stillness while observing nature. Then journal the experience afterwards. You'll be surprised what you see!
Whether it's a planned activity or just letting the imagination run wild, getting outside to play during colder months is important to healthy childhood development especially for children who struggle academically, socially and behaviorally.
To learn more about why our whole-child approach is the most effective way to help your child, contact us online or find a center near you.
---
Enjoy These Related Articles
The Importance of Unstructured Play
Why Don't Kids Play Anymore?
Brain Function and Exercise
5 Holiday Inspired Sensory Activities