We Help Kids Who Struggle
Struggling Kids
We can help.
If your child does not have a medical diagnosis and is struggling academically, behaviorally, or socially and you're just not sure why, we can help determine if Brain Balance is the right fit.
We have helped more than 45,000 kids get to the root of their struggles. The challenges that are most commonly reported in the kids and teens we work with include:
Distractibility and Attention

Task Avoidance

Attention to Detail

Follow Through with School Work

Time Management

Organization

Impulsivity

Mood and Behavior

Sensory Processing

Defiance
Brain Balance does not require that a child has a medical diagnosis, nor do we clinically diagnose medical conditions.1 Our focus is on understanding the struggles these children experience and helping them develop and strengthen the connections to help reduce those struggles.
The unique struggles your child is coping with may be able to improve through a unique combination of physical, sensory, and cognitive activities that help build stronger connections across different regions of the brain.
Research has shown that these symptoms may be linked to weak connections across different regions of the brain.
The good news is, we know that the brain can change in a way that may lead to improvements in these symptoms. The Brain Balance program exercises and activities are uniquely designed to help strengthen and build new connections by using a combination of physical, sensory, and cognitive activities. These new, efficient, and effective connections in the brain lead to improvements in our ability to complete cognitive tasks and in our executive functioning.
We use what we learn in the Personal Assessment to set up your child's program. By doing this for each child, individually, we create a customized program that addresses any deficits in functions or skills your child may have.
The frequency and duration of these tasks, activities, and exercises are tailored based on your child's needs.
See Improvements in Your Child
New research published in the Journal of Mental Health and Clinical Psychology suggests that Brain Balance is an effective, non-drug option for reducing and improving emotional and developmental challenges.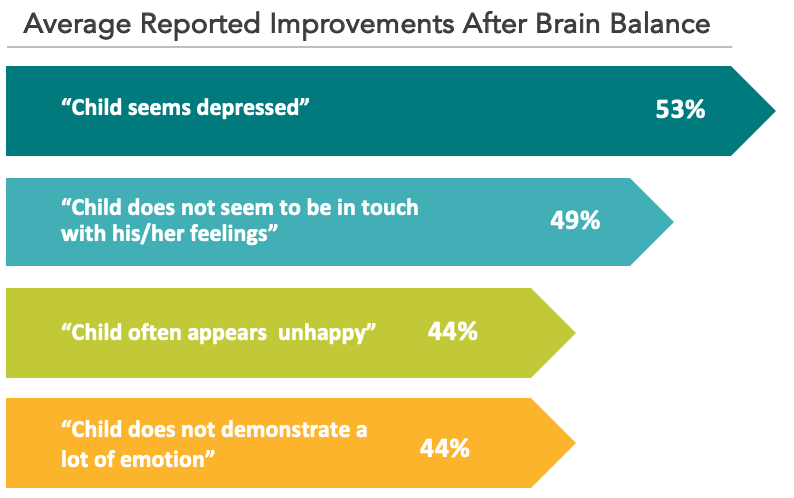 The study focused on children who were at or below developmental milestones and evaluated the changes in their behavior before and after undergoing 5-6 months of the Brain Balance program.
The findings revealed that nearly all the children who participated in the program showed improvements in mental well-being, with most categories reaching an average of 40-50% improvement.2
Do you have personal questions relating to your child's ability to focus and pay attention?
Our team is here to help you. Take a second to fill out our form. Our local staff will reach out to discuss your individual concerns!
Get started with a plan for your child today!