ANXIETY & HELP FOR ADULTS
Find Help for Anxiety with Brain Balance
Is it difficult for you to shake the feelings of stress or restlessness?
Do you feel constant and overwhelming panic or unease?
If this sounds familiar, your brain may have difficulty processing the feelings of fear and emotion. Feelings of anxiety are normal, but constant anxiety is something that can be a barrier to career advancement, relationships, social gatherings, or even school.
You may feel like you've been applying coping strategies to deal with your feelings of anxiety. But you are not alone. At Brain Balance, our team is here to help you. We understand what it feels like to cope with these symptoms and we have a plan to help.
Anxiety: What is Happening in the Brain?
The first step to managing anxiety is understanding what's happening in the brain. Once you understand the science behind what's happening, you can move forward in helping yourself to better cope with your feelings and manage your responses to stress.
Help with Stress Resilience and Emotional Regulation
We all experience stress and anxiety, but not all of our bodies react to stress and anxiety in the same way. Our brain's ability to take in and coordinate information can negatively impact how we feel and how we respond to stress. While one situation may be easily handled by one person, another person may feel anxiety causing them to shut down or react outwardly.
Did you know that the connections in our brains impacts the way we experience life and take in and process emotions? A person's ability to regulate anxiety and worry less relies heavily on brain connectivity or the formation of information pathways in the brain.
When new pathways in the brain are formed, the brain's ability to perform cognitive and physical tasks is improved. The strength and integration of our cognitive and physical skills build our ability to have successful executive functions - impacting our attention, decision-making and comprehension. We can notice these positive changes in our mood, memory, focus, behavior, social skills and relationships.
What can be done for anxiety?
The Brain Balance Program is uniquely designed to focus on building brain connectivity rather than implementing coping strategies for life to stay calm and worry less. The program uses a combination of sensory engagement exercises, physical exercises, cognitive activities and healthy nutrition to strengthen the brain pathways needed to reduce worrisome thoughts and improve the ability to handle stress.
Complete the form to talk to our team.
Improve sensory processing, comprehension, and mood
Do you feel that your processing difficulties interfere with your functioning in daily life? The Brain Balance Program can help you find a better way forward. The Brain Balance Program for adults is a brain wellness program designed to help you strengthen and improve your brain's functioning in a way that may help improve your sensory processing disorder symptoms.
STRATEGIC BRAIN TRAINING
Established physical, sensory and cognitive exercises that enhance focus, mood, memory, and overall daily performance. Programs are personalized to a participant's goals and performance level.
ONE TO ONE COACHING
Dedicated performance coaching to reach your goals. You'll complete your program from home, requiring less than 1 hour per day.
PERSONALIZED NUTRITION
Customized eating plans provide optimal fuel to build stronger brain connections during the program and beyond.
BACKED BY RESEARCH
Harvard University and Cambridge Brain Sciences research found the Brain Balance Program effectively improves focus, attention, and reasoning.
Improve your brain function
Whether you are looking to improve your anxiety symptoms or enhance your attention, memory, and problem solving, Brain Balance can help.
What do all of these areas of improvement have in common? They are all controlled by the brain. When your brain is functioning at its best, it sets you up to perform at your best.
The program is designed to strengthen brain connectivity using a unique combination of physical, sensory, and cognitive activities. We'll ship you everything you need to complete your program from the comfort of your home.
Your dedicated performance coach will meet with you weekly to help you achieve your goals. The program requires a commitment of less than 1-hour per day.
Adults of all ages and occupations can benefit from the program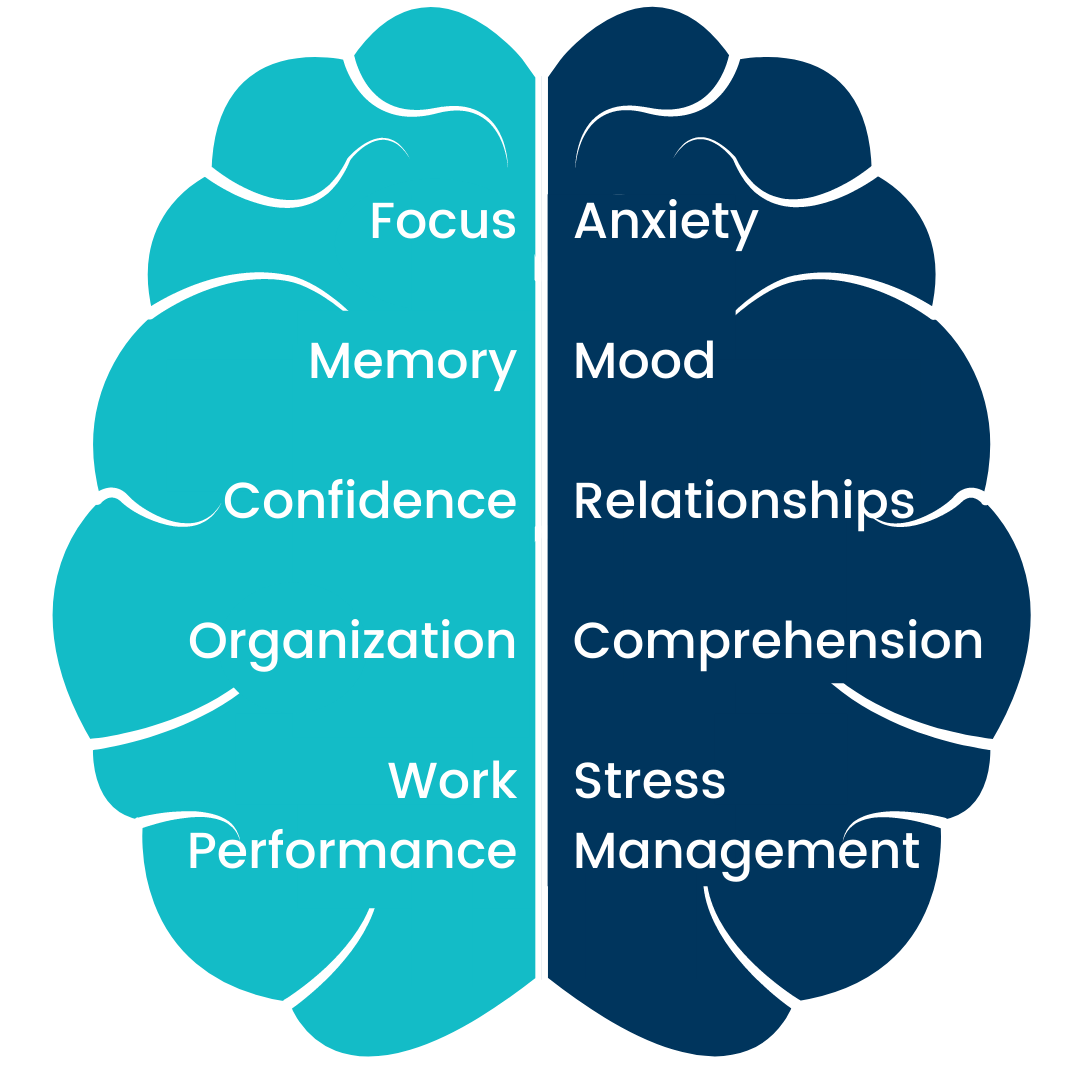 Whether you are an adult with a diagnosis of a processing disorder, ADHD, or anxiety, or you want to enhance your focus, mood, and motivation levels, a program can be customized to your personal goals.
You'll work 1:1 with a dedicated performance coach who will tailor the program to fit your needs. Your nutrition coach will customize an eating plan to support your brain for optimal performance and program outcomes.
The Brain Balance Program is available nationwide
You choose which mode is best for you:
Next step: a free consultation with our team
Let's talk about how Brain Balance can help you achieve your goals. Fill out the form above and share your story with us. One of our knowledgeable team members will reach out to discuss your personalized plan.
Q.

Do I need to be diagnosed to enroll in Brain Balance?

Brain Balance does not require a diagnosis nor do we diagnose individuals. Our focus is on getting to the root cause of the symptoms by strengthening the pathways across various areas of the brain.
Q.

I am currently taking medication. Do I have to stop taking my medication to complete the Brain Balance Program?

The Brain Balance Program uses a combination of physical, sensory, and cognitive activities paired with a healthy nutrition plan to optimize program outcomes. The Brain Balance Program is designed to improve brain function without the use of medication but does not require a person to stop their medication to complete the program.2
It's never too late to improve your life and change your future.
Brain Balance Program for Adults is available at participating centers only.

1 https://www.ncbi.nlm.nih.gov/pmc/articles/PMC6353676
2 Always seek the advice of a physician or other qualified healthcare provider with any questions regarding a medical condition or medication use. The Brain Balance Program does not diagnose or treat medical conditions.