The Brain Balance Program is the leading drug-free program designed to help kids improve focus, behavior, social skills, anxiety, and academic performance.
The Brain Balance Program offers a comprehensive, drug-free option that goes beyond the more traditional, mainstream approaches you may have tried before to help your child get to the root of their challenges instead of masking them.
How Does it Work?
When kids struggle with focus, behavior or sensory processing, it can be linked to weak connections across different regions in the brain.1 But the good news is, we know that the brain and behaviors can change when we strengthen and build new brain connections.2
The Brain Balance program is specifically designed to strengthen and build brain connectivity with a unique combination of physical, sensory, and cognitive activities. When you work these brain functions together, different networks in the brain fire together. Over time, this changes the speed and efficiency in the brain's communication pathways.
These new, efficient and effective connections in the brain lead to improvements in our executive functioning and our ability to complete cognitive tasks, such as:
Cognitive Tasks

Focus

Memory

Learning

Comprehension

Reasoning

Executive Functioning

How we manage:

Behaviors & Emotions

Organization

Self-Motivation

Problem Solving
When these skills and functions improve, a child may feel improved confidence and be better equipped to engage and thrive in the world around them.
Hear from other families about how the Brain Balance Program has helped kids like yours.
1 Learning Difficulties Due to Poor Connectivity
2 Brain Balance Program Research & Results
An In-Depth Look at The Brain Balance Program
The Brain Balance Assessment
Brain Balance creates a holistic view of your child through an initial assessment that identifies areas that need to be strengthened. From the results, we create a personalized plan focused on getting your child back on track.
TAKE OUR ONLINE ASSESSMENT QUIZ
Schedule your Assessment
Fill out our form to get started. A Brain Balance team member will reach out to personally discuss your child's challenges and schedule your child's assessment.
Program Components
Sensory-Motor training
Academic skill training
At-home daily exercises
Clean-Eating nutrition system
Community and online support
Confidence building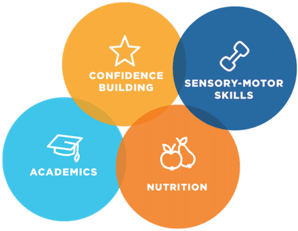 The Brain Balance Program can help children who are struggling with:
Inattention
Impulsivity
Hyperactivity
Challenges with Social Interactions
Controlling Mood and Emotions
Lack of Focus
Comprehension & Processing
Sensory Integration
Many of the kids we work with also have the following concerns:
*Brain Balance does not diagnose medical conditions. Brain Balance is a non-medical, drug-free program.
Find a better way forward. Complete the form to learn more.