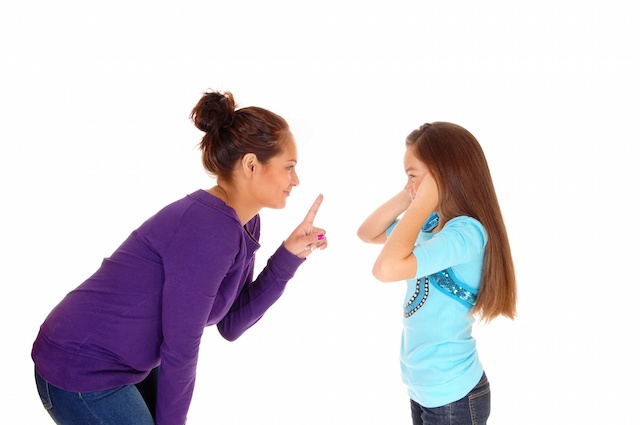 ADHD children, like all youngsters, often sorely try the patience of parents. When you're struggling to get through to or discipline a child, it's easy to blurt out things in exasperation. Remind yourself of what not to say to a child with ADHD and work on improving your communication strategies.
Ban These Words from Your Vocabulary
Words and phrases like "stupid," "dumb," "lazy," "crazy," "you're not trying" and "you should be ashamed" all erode self-esteem and lead to a lack of motivation in all children, but particularly those with ADHD because they tend to receive a lot of criticism. When you end a phrase with "but," such as "I love you, but…," your child knows that a negative comment is going to follow. Asking why your child can't be like other "normal" kids is a comment that cuts deep and reinforces the erroneous self-belief that it's almost impossible for your offspring to make friends with peers.
Emphasize the Positive
Praise, praise, praise. But don't just say, "You're a good boy/girl." Give the reason why you're praising your child. For example, if your child goes takes a bath the first time you say it's bath time, focus on that rather than the fact that the towels were left on the floor due to an exciting game that developed afterward with a sibling. A simple smile or hug with a positive comment is a good reinforcement when communicating with ADHD kids.
Focus on your child's strengths rather than weaknesses. ADHD children are usually extremely disorganized but have excellent memories for details about topics that interest them. When appropriate, encourage your child to do a written school project about a personal hobby; discuss how to set it out and supply a template if necessary.
Humor used appropriately is a great way to defuse tense situations or assist sad ADHD children. Laughing with and not at fosters a sense of family and belonging and helps your child feel better about difficult circumstances.
Forgive Yourself
As a parent, there are times when you're going to say or do the wrong thing. It's important to realize the effect your words have on your child and to rectify the situation. Apologize and offer lots of love. This is not to say that kids must not suffer the consequences of wrong-doing because that's one of the ways they learn. You, as the mature adult, have to try to cope with the situation in a better way and devise successful communication strategies so you and your ADHD child can grow and have fun together.
Want more tips for encouraging your ADHD child to follow the rules and accomplish their goals? Pick up a copy of Dr. Melillo's Reconnected Kids! Want to know more about how the Brain Balance Program® can help your child succeed? Contact us today!
Enjoy These Related Articles
A Homework System that Works for Students with ADHD
Tips for Minimizing the Homework Battle
Motivating Your ADHD Child
Tools and Resources for Classroom Success for Kids with Learning Disabilities