Adequate Levels of Vitamin B12 are Vital for Brain Health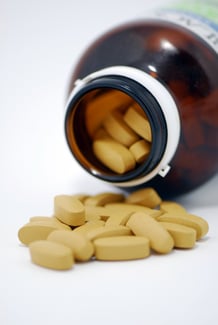 Is your child getting enough Vitamin B12? Kids with neuro-developmental disorders like ADHD, Sensory Processing Disorder, and Asperger Syndrome often have limited diets and may be missing out on this important nutrient. Adequate levels of Vitamin B12 are responsible for a variety of important functions, and inadequate levels can affect nerve function and brain health.
Vitamin B12 plays a vital role in the manufacturing of red blood cells and supports the normal function of nerve cells. In addition, Vitamin B12 aids in the production of Myelin, a protein that surrounds and insulates some nerve cells and leads to proper neural transmission speed. Perhaps most importantly, adequate Vitamin B12 levels are a must for DNA replication. So what does all this mean for brain function, and what's the potential impact on kids with limited diets who may be missing this important nutrient? An article from Dr. David Katz, MD of Yale University shares the following about the importance of Vitamin B12 on DoctorOz.com:
When B12 is deficient, our DNA cannot replicate normally – meaning we can't generate new, healthy cells. As a result, vitamin B12 deficiency can mimic all of the effects of aging.
Common manifestations of vitamin B12 deficiency include weakness, numbness and tingling, fatigue, dizziness, swelling and irritation of the mouth and tongue, and irritability...
The most serious manifestation of B12 deficiency is impaired brain function, due to the effects of B12 on nerve cells. Advanced B12 deficiency causes dementia severe enough to resemble Alzheimer's disease. Generally, though, the dementia caused by B12 deficiency is completely reversible with supplementation.
If your child has a limited diet due to food allergies or extreme sensory sensitivities, make sure he or she maintains an adequate level of Vitamin B12 to support his or her brain health and development. Adding grass-fed beef, eggs, and certain types of sea food to your family's diet is a great way to get more B12 naturally. If your family follows a vegetarian or vegan diet, a high quality supplement may be necessary. To learn more about symptoms of Vitamin B12 deficiency, click here.
Enjoy These Related Articles:
Study: Gut Bacteria Affects Brain Function
Tips for a Gluten-Free Lifestyle
Disclaimer: The information presented on this web site is not intended to diagnose, treat, cure, or prevent any disease. All information is intended for your general knowledge only and is not a substitute for medical advice or treatment of specific medical conditions. Discuss this information with your healthcare provider to determine what is right for you and your family.