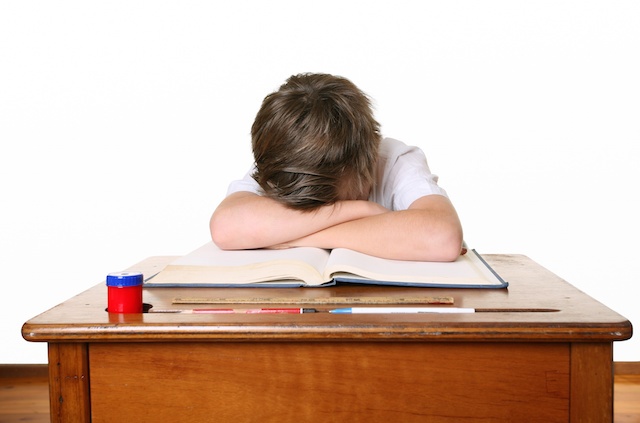 If a child is struggling in school, when do you know it's time for intervention? Parents of children with social, academic or behavioral issues may wonder whether their issues are part of typical childhood development or if they are due to something more serious like dyslexia or other type of learning disorder. While the signs of a learning disorder vary from person to person, knowing common indicators of a learning disability will help determine if intervention is necessary. If these issues persist over time, it may be time to seek outside help for your child from a professional.
Common Indicators of a Learning Disorder
Lacks motivation especially with regard to school and homework but not for things they enjoy

Appears to be prepared for test, yet tests poorly

Needs to hear or see concepts many times in order to learn them

Has difficulty pronouncing words (poor with phonics)

Continues to reverse letters and numbers after two years of handwriting instruction

Has trouble with tasks that require hand-eye coordination (coloring, puzzles, cutting)

Short attention span and poor memory
Visit "Signs and Symptoms of a Learning Disorder" to learn more about learning disorders, as well as information about the specific types of learning disorders like dyslexia and dysgraphia.
Children With Learning Disorders
The list above is a great way to initially identify a problem, but how does this translate to the daily life of an affected child?
Does any of the above sound familiar? Then it may be time for intervention.
Intervention for Learning Disorders
Getting a diagnosis for your child can be heart wrenching, but there is hope! The quotes above are the "before" from parents who's children attended The Brain Balance Program. Visit our success stories page to hear their "after"!
If you feel your child's school struggles need intervention, we encourage you to contact us for a free consultation and learn more about our comprehensive assessment to better understand what is at the root of your child's issues.
---
Enjoy These Related Articles
How to Manage Classroom Stress in Students with Learning Disorders
How to Reduce Test Anxiety in Kids with Learning Disorders