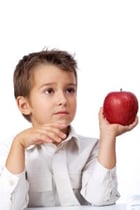 There has been some controversy as to whether organic produce is better than its conventional counterpart. When it comes to children with ADHD and learning disorders, pesticides found in food can be of particular concern. Children as a whole are typically more susceptible to the effects of chemicals due to their relative size and rate of growth. That compounded with the fact that prenatal organophosphate pesticide exposure has been found to have a negative impact on IQ and attention make for a strong case to go organic as a family.
A study in 2010 led by Maryse Bouchard in Montreal in the journal Pediatrics associates exposure to pesticides with increased cases of ADHD in the U.S. and Canada. In addition, scientists report that children exposed before birth to a common class of pesticides can have lower IQ levels when they reach school age.
"What we found is that mothers with higher levels of pesticide metabolites in their urine had children with lower IQs at age 7," says Brenda Eskenazi, a professor of epidemiology and of maternal and child health at the University of California, Berkeley.

"These pesticides are often used on crops, and people are exposed to them through eating fruits and vegetables, Eskenazi says."
While more expensive than its conventional counterpart, organic food has much lower levels of pesticide residue and is generally thought to be a better choice for pregnant women and developing children. If budget is a concern, EWG's 2014 Shopper's Guide to Pesticides in Produce™ offers a list of their "dirty dozen" - the top 12 produce most often tainted with unusually hazardous pesticides. By avoiding fruits and vegetables from this list, you'll significantly lower your child's exposure to potentially harmful chemicals. You may also consider purchasing produce from your local farmer's market which is typically less expensive than certified organic products and contain less pesticides than conventional produce found in a grocery store.
Enjoy These Related Posts
ADHD and Pesticides: Reduce Your Risk
Diet and Behavior: 3 Changes to Make Today
Recognizing ADHD Warning Signs in Kids
Disclaimer: The information presented on this web site is not intended to diagnose, treat, cure, or prevent any disease. All information is intended for your general knowledge only and is not a substitute for medical advice or treatment of specific medical conditions. Discuss this information with your healthcare provider to determine what is right for you and your family.