Nutritious, Brain Healthy Foods That Kids Will Love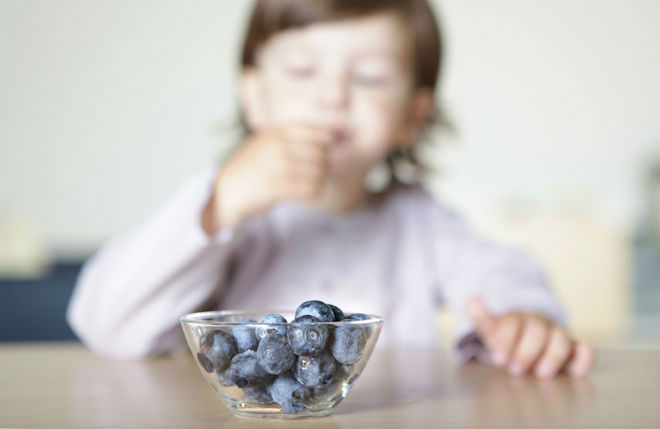 At Brain Balance Achievement Centers, we recognize the importance of healthy nutritious foods for optimal brain function, especially in developing children. One of the two nutritional components critical to our program in helping resolve a child's brain imbalance is to restore depleted vitamin stores. The following kid friendly foods nutritionally support improved brain function and promote balance for your child.
Blueberries
Berries have long been touted as a superfood and for good reason. The antioxidants and other phytochemicals in blueberries have been linked to faster learning, sharper thinking, and improved memory retention. They're also relatively low in fructose compared to other fruits, making them one of the healthier fruits available.
Broccoli
Broccoli and cauliflower are good sources of choline. Studies have shown that choline intake during pregnancy "super-charged" the brain activity of animals in utero, indicating that it may boost cognitive function, improve learning and memory, and even diminish the brain's vulnerability to toxins during childhood.
Water
Dehydration can affect cognitive function, therefore it's important that children drink plenty of water throughout the day to ensure they stay healthy and hydrated. How much water does your child need? EatRight.org offers this Kids Total Daily Water Requirements Chart to help you determine your child's daily water requirements.
Buckwheat
High in tryptophan and magnesium, buckwheat promotes relaxation and is a great brain booster. It's also a great grain substitute for gluten-free families, since it's technically a fruit seed.
Dark Chocolate Covered Walnuts
New studies show that being even mildly iron-deficient affects learning, memory, and attention. Iron levels can be restored through diet or supplements, thereby restoring optimal brain function. Walnuts are rich in iron and also contain omega-3 fatty acids which offer a protective effect on the brain and boost the function of neurotransmitters. Especially tasty when covered in dark chocolate, walnuts are a brain-healthy snack for older kids.
Brain Boosting Recipe
The following recipe for gluten-free buckwheat pancakes contains several brain healthy ingredients and can easily be worked into your child's diet.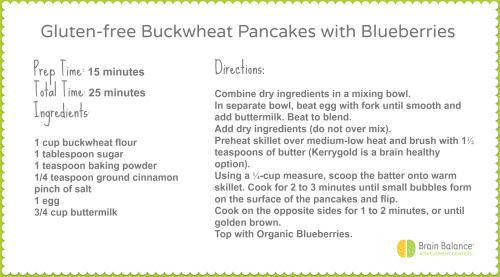 The Brain Balance Program®
A healthy lifestyle that includes identifying and balancing any other nutritional deficiencies, plays an integral role in supporting proper brain development and function. That's why our whole child approach includes a bio-nutritional component in addition to our academic and sensory motor objectives. Contact us today to learn more!
Enjoy These Related Posts
Nutrition for ADHD: Kid-Friendly Foods That Enhance Memory
Nutrition for ADHD: Kid-Friendly Foods That Enhance Focus
Sensory Friendly Foods Your Child Will Love
Can Food Intolerance Cause Behavioral Issues in Children?
Disclaimer: The information presented on this web site is not intended to diagnose, treat, cure, or prevent any disease. All information is intended for your general knowledge only and is not a substitute for medical advice or treatment of specific medical conditions. Discuss this information with your healthcare provider to determine what is right for you and your family.