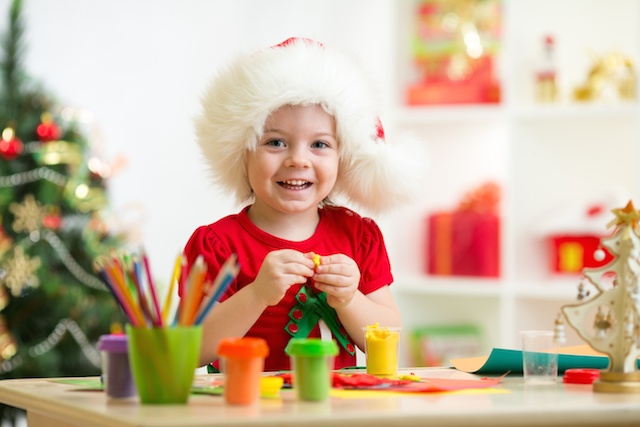 Being home for the holidays isn't just heart warming – it's an opportunity. For kids with learning differences, it becomes a time to recharge, to practice skills in a safe environment and to try new things that add to the rich experience of the holiday season. These suggestions are sure to leave long-lasting impressions on your child throughout the new year!
Sensory Crafts
Tactile activities can lead to more active memory. Under your supervision, your child might enjoy hands-on crafts such as making paper snowflakes (an all-time favorite!). Find tutorials with audio and visual components so he or she can practice listening and comprehending skills at the same time. Other craft ideas include stringing popcorn, paper-plate snowmen, wreaths and ornaments.
Holiday Cooking
Tasks involving clear steps and routines are favorable because they create spaces where children feel safe to learn and relax. Simple instructions are best. Look for recipes that require some assembly or decorating. If you don't mind using the oven, try gluten-free gingerbread or keep it simple with this superfood hot chocolate. Try incorporating a math lesson by including measurement conversions - by determining how many tablespoons are in a cup, or doubling the recipe. Make cooking into a fun project after which your child can feel accomplished!
Holiday Reading
There's no shortage of age-appropriate books to help celebrate the holiday season. The trick is to choose ones with relatable characters and ideas for kids with learning disabilities, such as "A Charlie Brown Christmas," "How the Grinch Stole Christmas" or "The Polar Express." Ask text-to-self guiding questions throughout the story: (1) What do you think about the character's action? (2) What would you have done? Model the process by answering first. Such questions can help your child understand concepts he or she can apply to daily life, like friendship, bravery and community.
Seasonal Music
With countless renditions of cherished holiday songs and versions adapted just for kids, your child can enjoy seasonal music (which can increase brain function) in multiple ways. Singing, dancing, clapping or tapping should also be incorporated wherever possible, as movement improves overall mood and health.
Festive Writing
Sending festive notes to friends and family doesn't have to be a chore. Have your child help you create handmade holiday cards with his or her own individual touch. Drawing and writing are cathartic practices that calm the nerves and encourage creativity. Let your child write with whatever tool is most comfortable, such as a pen, pencil, marker, keyboard or speech-to-text.
Whatever holiday activities you select, make adjustments for your child as necessary to create the right balance of challenge and comfort. Don't forget to enjoy the experience together!
If your child struggles with learning or has been diagnosed with a Learning Disorder, contact us online or find a center near you to learn more about how the Brain Balance Program can help.
---
Enjoy These Related Articles
Holiday Gift Ideas for Kids with Special Needs
Holiday Photos and Sensory Processing Disorder
Hyperactivity and the Holidays