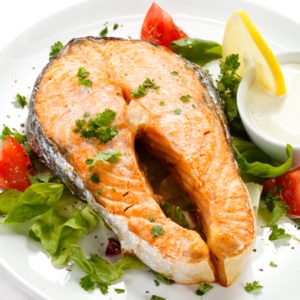 While most people think of a diet high in fat as being unhealthy, omega-3 fatty acids are healthy fats that offer benefits for the brain and body. Read below to learn about the potential benefits of getting enough omega-3 fatty acids, and learn which foods you should add to your diet today!
Omega-3 fatty acids include three types: EPA, DHA, and ALA. These good fats are not made by the human body, which means we must get them from what we eat. EPA and DHA are generally consumed by eating certain types of fish while ALA can be found in seeds and nuts.
Potential Health Benefits of Omega-3 Fatty Acids
Boost heart health - Omega-3s from fish oil can lower triglyceride levels, thus lowering the risk of heart disease.
Ease mental health symptoms and neurodegeneration - Some research suggests that getting adequate levels of omega-3 fatty acids can ease symptoms of depression, ADHD, and age related problems like dementia and Alzheimer's disease.
Fight inflammation - Symptoms of diseases associated with inflammation, like asthma and arthritis, can be eased by taking quality fish oil supplements that are high in omega-3 fatty acids. In addition, researchers believe fish oil can boost the effects of anti-inflammatory drugs.
Foods High In Omega-3 Fatty Acids
Add these foods to your family's diet today to get more health boosting omega-3 fatty acids!
Anchovies
Bluefish
Herring
Mackerel
Wild salmon
Sardines
Tuna
Grass-fed beef
Wild rice (not white or brown)
Black beans
Kidney beans
Walnuts
Pecans
Olive oil
Flaxseed
Chia seeds
Enjoy These Related Articles:
Study: Gut Bacteria Affects Brain Function
Tips for a Gluten-Free Lifestyle
Source: WebMD - The Facts on Omega-3 Fatty Acids