Strategies for ADHD: Guide for Parents
Download a Free Guide to ADHD
When your child is struggling with ADHD, focus, attention, or impulsivity, it can be tough to know the right tools to keep them on task.

At Brain Balance, we understand what's going on in the brain when a child has trouble focusing. We've got a plan, and we've got your back. We created this guide to give parents actionable steps to help improve focus and calm anxious feelings at home and at school.
In this ADHD Guide, you'll learn:
What's happening in the brain of a child or teen with ADHD.
The impact of stress on the brain of a child with ADHD.
Strategies to help your child improve focus and anxious feelings.
A daily optimal focus checklist: daily task list to keep kids focused and calm.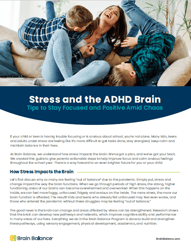 Download our free ADHD Guide and Daily Optimal Focus Checklist. You'll get detailed tips to help your child stay on task, concentrate, feel calm and sleep better.


Help Your Child Get Back on Track
If your family is feeling like this year of stress has left everyone feeling a bit more unfocused, you're not alone. At Brain Balance, we understand what you're going through. The Brain Balance Program is designed to help kids, teens and young adults build the focus, behavior, and social-emotional skills to keep up in school. Brain Balance has helped more than 50,000 individuals reach their true potential. When you fill out the form above, not only will you receive our "ADHD Guide for Parents" but one of our knowledgeable team members will reach out to see how Brain Balance can help.
Check out these helpful resources for families navigating ADHD and Focus Struggles
Fill out the form to download the "ADHD Guide for Parents"
| October 26, 2021
In her younger years, Natalie Thwaites couldn't imagine a life where she would be thriving as a psychology major at Lipscomb University. "I never..