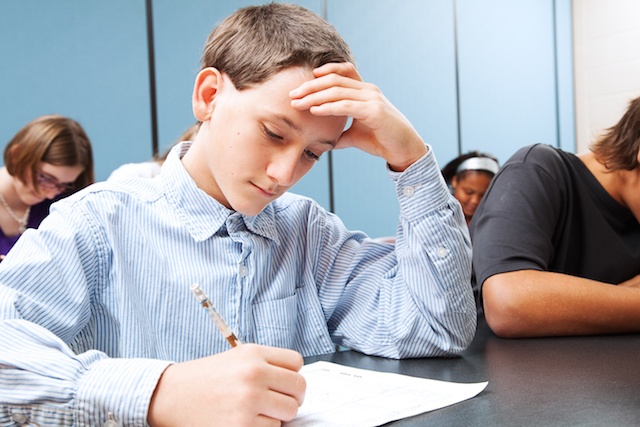 Twice Exceptional Students (sometimes called 2e students) are those students who are highly gifted but simultaneously struggle with other special needs, such as ADHD, learning disorders or sensory integration disorders. While students with any learning struggle may have a hard time in the classroom, 2e students face particular challenges because they are often overlooked by teachers, despite having enormous intellectual potential.
One specific academic area that tends to be particularly challenging for 2e children is standardized testing. While school systems rely on standardized tests as an important measure of academic capability, these tests present unique challenges for children with learning, sensory or attention disabilities because they require children to sit still, focus and face the unfamiliar setting of a testing situation.
Standardized tests can also elevate anxiety in 2e kids, both because of the pressure of testing environments and because of previous experience performing poorly and feeling frustrated or hopeless. When 2e children perform poorly on standardized tests, despite having the intellectual capacity to do well, they miss out on opportunities they deserve to excel and achieve.
To help your 2e child succeed, try some of these strategies for twice exceptional test taking to ensure your child performs to the best of his ability.
Dress in Comfortable, Familiar Clothing on Test Day
Dress students with sensory challenges in clothing that they are familiar with and comfortable. Remove all tags or itchy parts of clothing; clothes that cause discomfort can distract kids from test material. Also, make sure to dress children in removable layers, such as T-shirts, sweatshirts and jackets, to keep them comfortable if the testing room is too warm or too cool.
Arrange for Extended Test Time
Students who have learning disabilities are allowed extra time to complete their tests. Speak to administrators and teachers at your child's school when you realize he may be 2e because under Section 504 of the Rehabilitation Act of 1973, your child is legally required to have access to education that meets his needs as well as it meets the needs of kids without a disability. Come up with a plan with the school's education specialists to accommodate your child's testing needs, then remind your child that he will have the time that he needs to succeed on test day.
Keep a List of Academic Successes
Often, 2e children simply don't perform as well as they could on standardized tests because of environmental factors, but you can take steps to reassure your student that a low score doesn't mean he is a failure. Keep a list of intellectual and academic successes that he has had (A+ on a history essay, winning a math contest, inventing a tool in science class, for example). Then, if your child feels worried about how he will perform on test day, go over the list of successes before the test. This helps remind him that he is still succeeding, even if he doesn't do well on the test, and it may also give him a much-needed boost of confidence, which can ultimately help him perform better.
If your gifted child also struggles with learning or has been diagnosed with a Learning Disorder, contact us online or find a center near you to learn more about how the Brain Balance Program can help.
---
Enjoy These Related Articles
Reduce Test Anxiety in Kids with a Learning Disorder
Identifying Twice Exceptional Students
Under the Radar: Gifted with Learning Disabilities
Meeting the Emotional Needs of an Exceptional Child