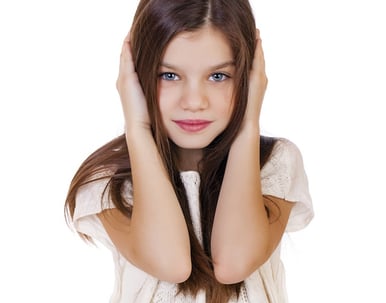 MRI results from a research study at UC San Francisco reveal that the brain structure of kids with Sensory Processing Disorder, also called SPD or Sensory Integration Dysfunction, is different from those without the disorder. For the first time, researchers have been able to identify a potential biological marker in kids with sensory processing problems. UCSF's website shares the following about the study(1):
"The study examined 16 boys, between the ages of eight and 11, with SPD but without a diagnosis of autism or prematurity, and compared the results with 24 typically developing boys who were matched for age, gender, right- or left-handedness and IQ. The patients' and control subjects' behaviors were first characterized using a parent report measure of sensory behavior called the Sensory Profile.

The imaging detected abnormal white matter tracts in the SPD subjects, primarily involving areas in the back of the brain, that serve as connections for the auditory, visual and somatosensory (tactile) systems involved in sensory processing, including their connections between the left and right halves of the brain.

'These are tracts that are emblematic of someone with problems with sensory processing,' said Mukherjee. 'More frontal anterior white matter tracts are typically involved in children with only ADHD or autistic spectrum disorders. The abnormalities we found are focused in a different region of the brain, indicating SPD may be neuroanatomically distinct.'"
While it is generally accepted that children with Asperger Syndrome, ADHD, and Anxiety Disorders have trouble integrating sensory input, Sensory Processing Disorder isn't yet recognized as a stand-alone diagnosis. Researchers believe this study could lead to SPD being included in the The Diagnostic and Statistical Manual of Mental Disorders from the American Psychiatric Association as a stand-alone disorder.
Most children can seem quirky or particular about their likes and dislikes, but children with Sensory Processing Disorder will be so severely affected by their sensory preferences that it interferes with their normal, everyday functioning, relationships, and learning. Sensory issues are usually defined as either hypersensitivity (over-responsiveness) or hyposensitivity (under-responsiveness) to sensory stimuli. Learn more about SPD here.
If your child is experiencing sensory processing problems, consider The Brain Balance Program®. At Brain Balance Achievement Centers, we have long recognized that symptoms of SPD and other neuro-developmental disorders are often the result of an imbalance in communication between and within the hemispheres of the brain. Our Comprehensive Assessment allows us to customize our sensory motor and cognitive activity plans to address each child's specific brain imbalance, leading to a reduction or elimination of behavioral symptoms. When coupled with our nutrition guidelines, children and families experience a whole-person approach to personal growth and wellness. Why are our nutrition guidelines an important part of your child's program? Read the specifics about how gut health affects brain function here.
Our cutting-edge program has helped thousands of kids reach their academic and social potential through our unique drug-free, whole-child approach. Contact us today to learn more!
Enjoy These Related Articles:
Signs and Symptoms of Sensory Processing Disorder
Strategies for Minimizing Sensory Overload
Source: (1) UC San Francisco (2013, July 9), Breakthrough Study Reveals Biological Basis for Sensory Processing Disorder in Kids