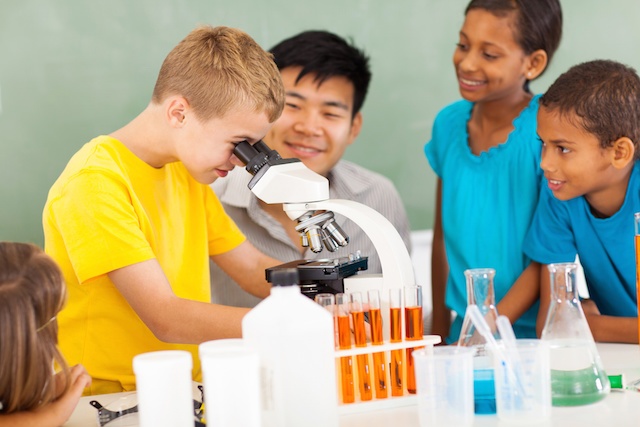 Group work at school can be great fun as kids interact and learn together, but it can be difficult for children who struggle socially. Many children who have been diagnosed as ADHD or Asperger's need extra help getting along with others. Use these tips to help your child fit in when doing school group work.
Communicate with your child's teacher. Without telling teachers how to do their jobs, suggest that your child may do better in small groups rather than bigger ones. One way to make group work a positive experience is to give each child a specific task that plays to individual strengths.
Talk to your child about school group work. Group work may be a new concept to your child, so prepare the way by talking about what a group is, who will be in the group (ask the teacher about this) and what type of tasks are involved. With the help of the teacher, arrange a secret signal for your child to display if the group situation is becoming overwhelming.
Help your child read social cues. Role playing common group work situations can help your child see things from both sides and practice strategies for interacting with others. Magazines and TV programs are also a good way of teaching kids how to read body language.
Encourage social interaction with other kids. Ask your child who to invite to your home for play dates; keep groups small and keep an eye on the kids. For young children, it's a good idea to plan some activities like baking cookies or arts and crafts.
Discuss social challenges with your child. ADHD and Asperger's kids tend to interrupt others and can be intensely and inflexibly focused on what they want to talk about. These behaviors can make them stand out in their peer group. Consistently and quietly point out unsociable behavior and praise appropriate actions such as sharing with and listening to friends.
Nurture your child's interests. If your child is passionately interested in aircraft, suggest joining a model building club. Dance or acting clubs are a great way for kids to meet peers and work off energy in a creative way. Doing well in these scenarios helps to build self-esteem, making it easier for your child to tackle other social situations such as school group work.
Patience, consistency and creativity are needed from parents when helping their children fit in socially with school work groups. Help your child make this part of school a happy and positive experience by being supportive, communicating well with teachers and setting good examples.
Contact us today to schedule an assessment. You can also view the research and results of the program on the website.
Enjoy These Related Articles
Learning Social Cues
How to Navigate Summer Playdates with Social Issues
Common ADHD Social Issues and How Parents Can Help