How Best to Get Support for Your Child's Learning Challenges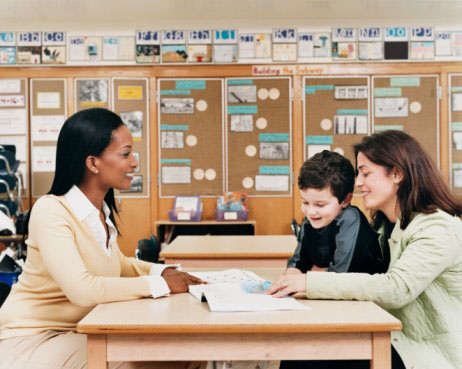 Working together with your child's teacher is one of the best ways to ensure your child is getting the most effective school support for learning challenges. Make the most of parent teacher conferences with these tips to make parent-teacher communication easier.
Communicate Early
Ignoring your child's problems is not helpful. If the teacher has not initiated contact, feel free to do so yourself. Many teachers will send home a handout noting how and when it's best to communicate with them. Alternately, you can contact the school office.
Be in Touch Regularly
Regular communication with the teacher is important. There are several ways to do this:
Face-to-face meetings. Go prepared with a list of specific issues you want to talk about.

Phone calls. Find out the most convenient time to phone the teacher. For example, don't try to talk during class hours.

Written notes or emails. Keep these short and to the point. If necessary, request a meeting to discuss the issue further.
Converse Respectfully
Staging a confrontation with your child's teacher will achieve nothing except to raise negative emotions. Instead, treat the teacher with respect and allow your child to witness this behavior. If you belittle a teacher in the presence of your child, your example will more than likely make the task of teaching even more difficult.
Build a good relationship with your child's teacher. Even if you've got bad memories of your childhood teachers or have had problems communicating with schools before now, leave all that baggage behind and concentrate on the future.
Collaborate with the Teacher
According to Kristen L. Hodnett in her article, Why It's Important to Partner With Your Child's Teacher, reaching out to the teacher will help your child feel more positive about learning and help the teacher understand your child better. Collaboration and brainstorming ideas with the teacher is a more successful approach than lecturing the educator on how you think your child should be taught. Remember that although you know your child well, the teacher has had formal training in how to get concepts across to a class. Work together on the best ways to connect with your child, both at school and at home.
Keeping the parent-teacher communication ongoing and positive is key when you're getting help for a student with special needs. Remember that you're all working toward the same goal: to empower your child with knowledge in the best way possible.
---
If your child has learning and/or behavioral problems, we invite you to consider the Brain Balance Program®. After we complete a comprehensive assessment of your child's brain and body function, we create a program tailored specifically to your child's unique needs. Our drug-free, integrated approach brings parents and kids together to achieve a common goal of improving a child's processing and learning ability, leading to a more successful academic and personal life.
To schedule an assessment for your child, or to learn more about how the Brain Balance Program can help your child reach their full potential, contact us online or find a center near you.
Enjoy These Related Articles
2014 Back to School Guide: Getting School Support for a Child's Challenges
Parent Tips for IEP Meetings