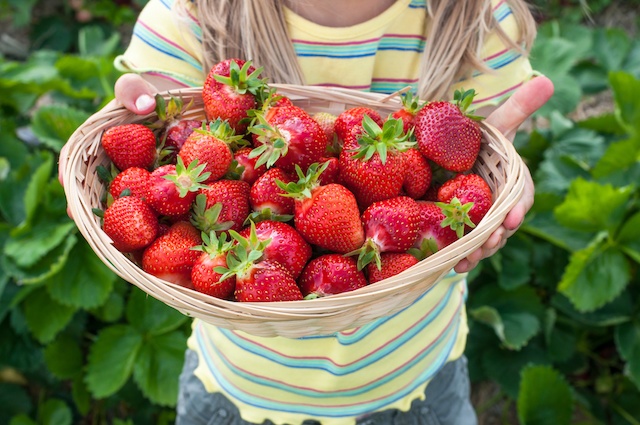 Spring is here! With flowers blossoming and the beautiful sunny weather, now is a good time to check in with your current eating habits and assess if any of your meals could use a spring cleaning.
What Is In Season?
With our gardens just waking up, this is a great time to visit your local farmer's market and try fresh, local strawberries. There is no comparing the bland fruit from the grocery store and the juicy sweet gems picked that morning. Even better; visit a you-pick farm and find your own fruit.
Radishes are another spring treat. Try some as the French enjoy them; halves of a raw radish spread with a bit of butter or non-dairy butter and a sprinkle of salt. Radishes are also delicious sliced into a salad or dunked in a homemade dip.
Asparagus is an easy vegetable to grow in your backyard. Plant it once and harvest for years! Asparagus is a good candidate to discuss flavor, texture and appearance of food with your child. Asparagus looks like a green beans, but does it taste like a green bean? Do the thick asparagus spears have the same texture as the skinny ones? Do we like asparagus better on the grill or steamed? The more children have positive experiences getting to know new foods, the more they'll eat them!
Dig In
Whether you live in a high rise apartment or in a country setting with 40 acres, giving your child the opportunity to grow their own food helps them to be better eaters. Start simple with a pot of good soil and a packet of lettuce seeds; the plants will grow quickly and be ready to eat in a few short weeks.
Clean Out
You may be fine tuning your eating plan or you may be just beginning to weed out processed foods. Either way, it is a good practice to revisit the food in your house and reread the ingredient list. Include your kids in the decision making and detective work.
About Balance 360 Clean Eating System
The Balance 360 System is a step-by-step approach designed to help parents customize a nutrition plan to fit a child's lifestyle and needs. You'll learn how to adopt new ways of shopping and cooking as well as find hundreds of tasty nutritious recipes. There are fun activities to motivate your child and help you, as a parent, work through the process of changing the way you eat while on your path towards a consistently healthy lifestyle. This nutrition system is a proprietary program available only to parents and their families who are actively enrolled at a Brain Balance Achievement Center.
To learn why our whole-child approach is the most effective way to help your child overcome their learning, behavior, and social challenges, contact us online or find a center near you.
---
Enjoy These Related Articles
What's a Superfood?
Worst Foods for Brain Health
Disclaimer: The information presented on this web site is not intended to diagnose, treat, cure, or prevent any disease. All information is intended for your general knowledge only and is not a substitute for medical advice or treatment of specific medical conditions. Discuss this information with your healthcare provider to determine what is right for you and your family.