Avoid Foods That Worsen ADHD Symptoms With These Healthy Treat Alternatives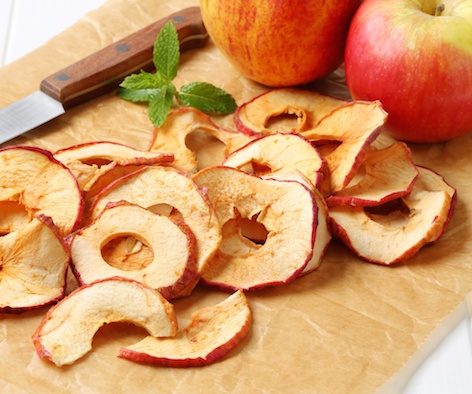 Your child has learning and developmental issues, and you know that certain foods aggravate the situation. However, it's sometimes a struggle to find healthy alternatives to birthday sweets and school treats. Here are some suggestions for you to try.
Healthy Birthday Party Treats
Your child, like every other child you know, wants to have a birthday party on the big day, but it's important to avoid foods with artificial colorings and sweeteners, high-fructose corn syrup levels, frosting or high sugar content. Try these healthy birthday treats:
Fresh fruit tossed in spices, for example, apple slices and cinnamon or pear chunks and cardamom. Apple slices in honey are delicious, if a trifle sticky.
Mini muffins made with banana, pumpkin, corn, cranberries or blueberries.
Cookies such as crunchy oatmeal and raisin or blueberry.
Healthy cereal or granola bars.
Dried fruit or 100 percent dried fruit rolls.
Fresh fruit kebabs with a dipping sauce of vanilla yogurt.
Yogurt buffet served with a variety of toppings like chopped fruit and berries, granola and shredded coconut.
Strawberry tips or banana slices dipped in dark chocolate.
Fruit shakes made from blended fresh fruit, ice and yogurt.
Banana or pear bread is a good substitute for sugary birthday cake and can be decorated with fresh fruit and a little whipped cream.
Offer a large variety of healthy birthday treats, and you'll see how the kids flock around the food and drink tables and relish what's on offer.
Nutritious School Snacks & Sweets
Healthy school treats for your child is another area where you sometimes run short of ideas. It's best to provide snacks that transport easily and are not difficult to eat, such as:
Savory popcorn, either made at home or a purchased low-salt brand.
Whole-grain crackers.
Homemade low-sugar cookies.
Dried and fresh fruit.
Zucchini or pumpkin bread.
Trail mix and pretzels.
Carrot sticks and cherry tomatoes.
Homemade Treats or Store Bought Sweets?
Homemade treats are best because you know exactly what goes into them. However, if that is not your field of expertise, or you just don't have time, then buy your child's school treats. Read the labels carefully and go for reputable brands that you know specialize in low-sugar, high GI foods, and low-salt foods.
Below is a delicious and easy homemade recipe for Baked Cinnamon Apple Chips that can be served at a birthday party or sent to school as a special treat!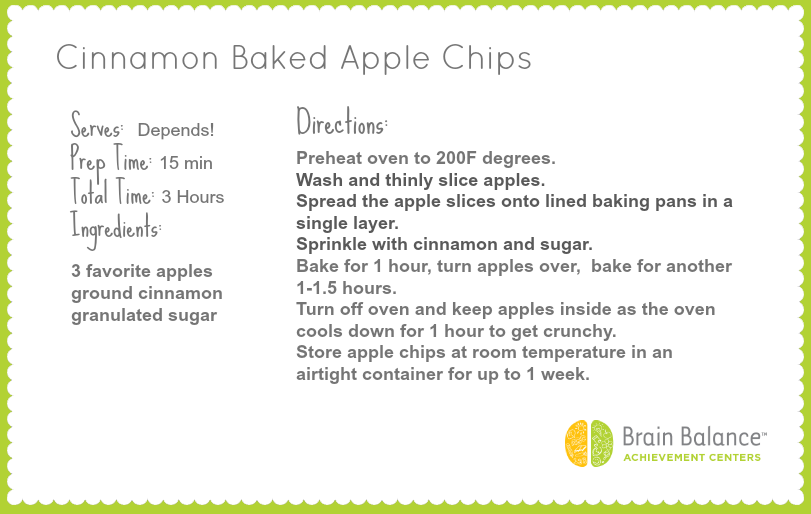 Sugar-Free School & Birthday Celebrations
Another option is to skip the treats and instead donate a classroom gift in honor of your birthday child or provide goody bags for birthday party guests. Donations like a new board game or library book can go a long way to making your child feel special on his or her big day without contributing to the sugar overload that most school children experience on a daily basis.
If you opt to send in a special treat, try to provide a balance of healthy sweets that are good for your child, and you know will be enjoyed. Have fun together devising new concoctions or coming up with alternative ideas to the traditional birthday dessert that will help keep your child with ADHD on track in everyday life and at school.
---
The Brain Balance Program®
A healthy lifestyle that includes identifying food sensitivities, as well as balancing nutritional deficiencies, plays an integral role in supporting proper brain development and function. That's why The Brain Balance Program includes a bio-nutritional component in addition to our academic and sensory motor objectives. Contact us today to learn more!
Enjoy These Related Posts
Nutrition for ADHD: Kid-Friendly Foods That Support Memory
Nutrition for ADHD: Kid-Friendly Foods That Enhance Focus
Can Food Intolerance Cause Behavioral Issues in Children?
Disclaimer: The information presented on this web site is not intended to diagnose, treat, cure, or prevent any disease. All information is intended for your general knowledge only and is not a substitute for medical advice or treatment of specific medical conditions. Discuss this information with your healthcare provider to determine what is right for you and your family.