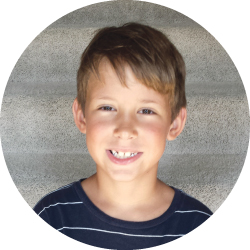 Tom, 7
Diagnosed with/Exhibiting:
What a blessing Brain Balance has been. Our son is a pleasure. We can have dinner without constant complaining. He gets ready for bed and gets up with ease. It has been life-changing for us all.
We were led to Brain Balance when we noticed awkward tendencies in Tom's interactions and coordination.
As he grew, they began to affect his ability to relate to others and do his new schoolwork. His handwriting was light and messy. He didn't want to sit and participate in anything, from storytime to class time­—even game time. Organized work was impossible for Tom. We moved to North Carolina, and Tom had a hard time transitioning between activities. I had to change our family plans daily in order to accommodate Tom's outbursts and obstinance. Tom loved Brain Balance and eagerly attended during the months of session.
Since the first month, we've seen a dramatic change! His ability to focus has improved dramatically. He began to look both ways when crossing the street. He didn't cry every time we took him to church or our activities. He learned to ride a bike. He passed three levels of swimming lessons. He was more even-tempered and able to handle disappointment. One afternoon, we went out to lunch with friends and we told him not to order a Coke. He did anyway. We told the waiter to take it back and bring water instead. I could feel my husband tense as we braced ourselves for a tantrum or a full negotiation, but Tom just shrugged and took the water with a straw. Tom now goes to classes without issue.
Brain Balance students progress an average of 2.6 levels in 3 months for sensory motor exercises. On average, customers surveyed rated their satisfaction at 8.5 on a 10 point scale.