Shayla was having learning issues.
She was struggling a lot with math. Shayla was also very emotional and having behavior issues. Shayla's really hypersensitive, always taking things the wrong way. We went to Brain Balance and got the assessment. We were amazed at how right Brain Balance was about Shayla's early reflexes still hanging on, and there was a lot that they were sure they could help her with.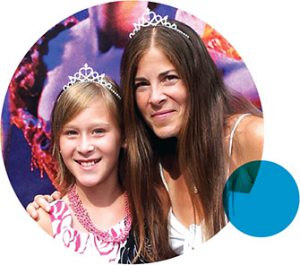 Shayla loved it. She really loved being there. That was such a pleasure since Shayla can be very particular and tend not to like people. She looked forward to going. Her brain was readjusting. She started changing before my eyes. She started understanding things more.
Shayla was making big strides in her studies, in the way she was as a person and the things that she could handle. Shayla became much happier, much more delightful to be with, and just easier. The teachers at school were thrilled. I've been recommending Brain Balance left and right. I highly encourage it. Brain Balance really made a big difference. It shifted the way I looked at my daughter.
- Cari H., Brain Balance Parent
Brain Balance students progress an average of 2.6 levels in 3 months for sensory motor exercises. On average, customers surveyed rated their satisfaction at 8.5 on a 10 point scale. Over 84% of customers said they were very likely or extremely likely to recommend Brain Balance to a friend or family member.