We went to Brain Balance hoping that they could at least help our child a little bit. Not only did they help her, we really feel they saved her life. She was suicidal, she was having those thoughts, and after Brain Balance, it's totally gone. She doesn't have those thoughts anymore.
Maranda before Brain Balance, all the way from preschool she's had struggles with her academics, with shyness, she was super shy, had speech problems, all that. As she progressed through elementary and into junior high, speech issues turned into a lot of verbal bullying against her, a lot of verbally bullying and stuff like that caused her to be depressed. She started having suicidal thoughts, really withdrawn from family, no friends, really just in a really bad situation. We tried counseling, we tried tutoring, we tried everything and nothing seemed to work. Very clumsy, very awkward, everything she did wasn't right.
We went into Brain Balance for the assessment and they explained to us what was going to take place. We talked to them and gave them a little bit of a background on Maranda. When we went back for the results, it was just amazing what they told us, and what they told us about her, and what they thought that we were probably seeing out of her as far as socially awkward, clumsy, hard time with academics, all that stuff. They hit everything right on the head, just from the assessment. They pretty much knew everything about her just from that one assessment. We just couldn't believe it, we were kind of in shock.
We didn't trust the program at first, to be honest, we really didn't, but we were willing to try anything. We tried everything, some of the activities that they said she'd be doing, we were like, how in the world is that going to fix our kid? How is this going to work? We just stuck our faith, I figured that Brain Balance was put in front of us for a reason, so we stuck with it. About halfway through the program, maybe not even, we started seeing her grades go up, and she started … All her life, she struggled – if she got a C on the report card, we were ecstatic. It was a major improvement to get a C. It was all mainly D's and a few F's here and there. Halfway through the program, she brought her first report card home that was honor roll material. She had one C on it, and the rest were A's and B's. We were just ecstatic, we couldn't believe it. Then it just kept continuing to climb. Her attitude changed, she started having a smile on her face, she became more social, has a couple of good friends finally, which she's never had.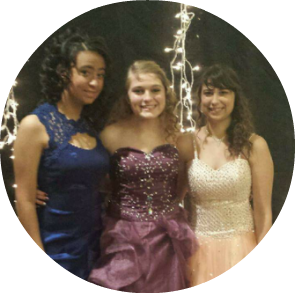 Everybody around her, everyone that knows her, they just rave about the change in her – how she went from being this shy, withdrawn, little kid to a beautiful, young lady that has a smile on her face all the time, can actually hold a conversation and you can tell just enjoys life, and that's something you had never seen out of her. She just never enjoyed life at all, she was just so depressed, and this program brought her out of that.
Since I'm a police officer, I carry Brain Balance pamphlets in my car, and when I go to calls with families having problems with their children, I always tell them about Brain Balance. I hand out the pamphlets and everything. I tell them that nothing in this world is more important than your child, and as a parent, it's your responsibility to do whatever it takes. Sometimes you just have to trust in something and do it. Checking into Brain Balance, and getting your kid into Brain Balance will improve their life. I'm a testament to that. We've seen it. We watched it happen.
- Stacy & Mark G., Brain Balance Parent
Brain Balance students progress an average of 2.6 levels in 3 months for sensory motor exercises. On average, customers surveyed rated their satisfaction at 8.5 on a 10 point scale. Over 84% of customers said they were very likely or extremely likely to recommend Brain Balance to a friend or family member.