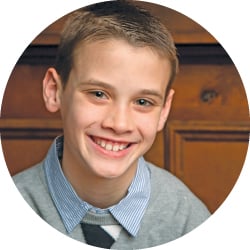 Gavin, 10
Diagnosed with/Exhibiting:
Gavin's change was so powerful we decided to join the Brain Balance family and move to Texas to open 3 centers as owners.
Gavin had been seen by other therapists and professionals before we found Brain Balance.
None of them really seemed confident in a diagnosis or plan for how to help with his emotional meltdowns at home. He was also getting stomachaches and shutting down at school. When we had the assessment with Brain Balance, it finally seemed like there was someone understanding our son, that had a plan of what to do to actually help. We were so pleased on so many different fronts. The good things we heard from his fourth grade teacher were the opposite of what we had heard during third grade and the end of second grade. Near the end of his work at Brain Balance, he was part of a primary program at church. He sang so confidently, and we were shocked to see him so engaged. Gavin has changed at home­—he has fewer meltdowns and engages with others more frequently and empathetically.
Brain Balance students progress an average of 2.6 levels in 3 months for sensory motor exercises. On average, customers surveyed rated their satisfaction at 8.5 on a 10 point scale.