Collin struggled with focus, academics and social skills.
He was always behind and delayed. He was shy and full of anxiety. We held Collin back a year in school because he was struggling academically. Collin didn't have friends his age. The struggles just got bigger as he got older.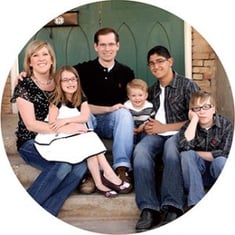 Now Collin is in the Drama Club and auditions for plays. That takes so much confidence. He's handled it well when he hasn't gotten some parts. It's amazing that Collin can go into something knowing he might be disappointed. The bravery he has now, he never had before. He's gone beyond what I'd hoped for him. Collin is doing what he's dreamt of. I don't think Collin even had dreams before because he was limited in what he thought or knew he could do. Now, he knows the sky is the limit. He can do anything. We are thrilled with the results. Collin is achieving things we never thought possible.
- Ginger H., Brain Balance Parent
Brain Balance students progress an average of 2.6 levels in 3 months for sensory motor exercises. On average, customers surveyed rated their satisfaction at 8.5 on a 10 point scale. Over 84% of customers said they were very likely or extremely likely to recommend Brain Balance to a friend or family member.