I appreciate the center. I don't know where we would be without it. My son would probably be a zombie on some type of medication. If we didn't have Brain Balance, what else would we have? No one's willing to work with him like the center does. That, for me, is a Godsend. It really is.
Before Brain Balance, Christian was difficult, very difficult to learn anything. His colors… I mean, anything, you name it. It was a lot of repetition and he still wasn't getting it, or he'd get it one minute and wouldn't get it the next. If you're reading to him, he would put his head down and was so bored and didn't really hear us or understand we were reading to him or what we were doing for him. He was hyper and very distracted, He was always interested in something else, but never what we were saying. We could say a million times what to do, but he just wouldn't do it. Just the simple functions that all children at his age should learn to do, he wasn't there.
Christian is a very loving child, but he's also a very touchy child … Was, not anymore. He was always touching people, and a lot of kids didn't like it. He'd hug them and that was what he needed I guess. His sensory to touch was really high when we tested him. He made people uncomfortable because all he wanted to do was hang on them.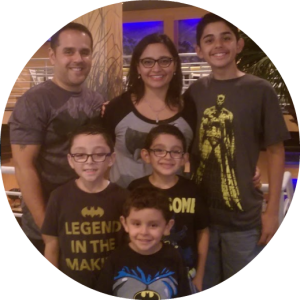 Every day I sat there in the beginning, it was really difficult because Christian actually got worse. I mean, his temper changed. His demeanor changed. It was scary. Then all of a sudden, he was a different kid. I'm like, "Wait! Who are you? What? Who are you?" Everyone noticed the change in him. He was hearing us. He was listening. He was doing. He was entirely different.
I know what Brain Balance did for my son. Anyone who's not willing to try it is crazy. We were skeptical and we were scared. It's a lot of money. We have four kids. Spending so much on one is difficult. It's difficult. But we knew we saw the changes. We know the changes. Christian's a better kid.
- Maria R., Brain Balance Parent
Brain Balance students progress an average of 2.6 levels in 3 months for sensory motor exercises. On average, customers surveyed rated their satisfaction at 8.5 on a 10 point scale. Over 84% of customers said they were very likely or extremely likely to recommend Brain Balance to a friend or family member.