Welcome to Brain Balance Centers of Northern New Jersey

Brain Balance Has a Non-Medical Approach to Help Your Child
Brain Balance is the leading drug-free program designed to help kids improve focus, behavior, social skills, anxiety, and academic performance. Our comprehensive programming incorporates learnings from cognitive, behavioral and nutrition fields—an integrated approach that is literally redefining what's possible.
Is something blocking your child's social, behavioral or academic progress? Brain Balance picks up where conventional approaches leave off, going beyond the treatment of symptoms to address root causes. At Brain Balance, we're not about coping with barriers. We're about knocking them down, one small breakthrough at a time.
Research Shows Brain Balance is Effective
A Harvard study found that kids who participated in the Brain Balance Program saw a significant reduction in ADHD index scores, discernible changes in hyperactivity, enhanced cognitive attention, and reductions in oppositional behavior.
We are continually collaborating with world class researchers to show the efficacy of the program and reveal through data how the Brain Balance Program can help children, teens and adults improve.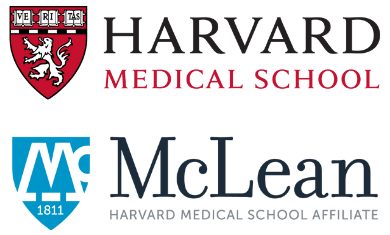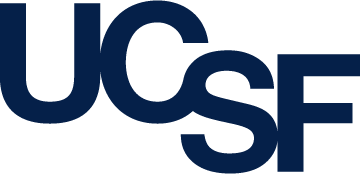 Find a better way forward. Complete the form to learn more.
About the Brain Balance Program®
The Brain Balance Program is made up of physical and sensorimotor exercises, academic skills training and healthy nutrition. It is tailored to the needs of your child, and delivered in a uniquely systematic approach that you'll be hard pressed to find anywhere else.
A Whole-Brain Approach
The program engages the brain and body together, through sensory engagement, physical development and academic learning activities.
Personalized to Your Child's Challenges
The program is tailored to your child's needs and development level, delivered with the frequency and duration needed to drive meaningful change.
1:1 Coaching & Support
Our coaches will personally guide you through the program, including evaluating progress and leveling up as your child advances.
1:1 Nutrition Sessions
A Nutrition Coach will help customize a healthy nutrition plan fit for your child's lifestyle and needs.
On-Demand Resources
You'll have access to a Program Portal where you can view on demand helper videos, nutrition content, and program resources.
Program Format
Your child can work onsite at your local Brain Balance Center with our coaches three times per week.
We also offer an at-home virtual option that is parent-led. You'll have weekly video check-ins from your program coach.
Stories from Welcome to Brain Balance Centers of Northern New Jersey
"Now, she really likes to sit down and have conversations with us. That's been wonderful. She's just enjoyable to around. She is experiencing life now that she wasn't able to do because so many things roadblocked her. I would absolutely recommend it and have. - Kelly H., Brain Balance Parent"
Madison, Age 10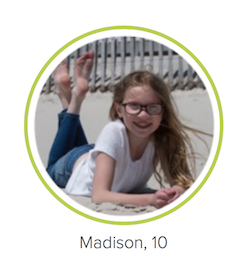 "The child, who used to have tantrums because he couldn't get what he wanted, now rationalizes and asks me what he can do to earn what he wants. The child, whom I used to spend 2 hours trying to catch so he could do his homework, now comes home and sits down to do his homework all by himself. This is just a small portion of the changes we see. If you look at each change separately- it doesn't look like a big deal, but all of them together have made our life so much easier. Now I have a mature 8-year old boy, whom I can have full and interesting conversations with, who understands his responsibilities and follows through with his promises. The Summit Brain Balance Center has people who really care about your child and kids feel that. My son loved going there, and not once complained that he wouldn't go. Would I do it again, now that I see the results? In a heartbeat."
Brain Balance Graduate, Age 7
"The outcome was worth waiting for – it's not a quick fix, these stages need to happen, it's been a lasting and ongoing improvement. The excellent result has been worth every step. We now have a very happy daughter who has confidence, can reason, can react to good or bad situations in a balanced way, is stronger physically, is making new friends, is accomplishing big steps forward academically with a very strong willingness to learn….. she now has the ability to achieve her full potential now and in the future! Above all, our little girl is loving life in a positive way!"
Arielle, Age 5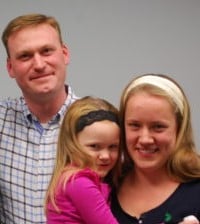 "The Brain Balance team were wonderfully kind and generous in the care of our daughter. They coordinated with her elementary school teachers and therapists to refine a more holistic, comprehensive program to address her neurologic needs. I am exceptionally grateful to them."
Dr. Anna Lisa Pastore, MD
"Anna did her homework today all by herself and she did it quickly and with little help! Such an improvement. I am amazed how quickly she read the problem, processed the information, and answered the questions. She beat me! I am really impressed and amazed! She is also talking so much more and saying phrases that are amazing to me. She is also speaking clearer too."
Anna
"Everything made sense – we were impressed with the testing process and the in-depth individualized instruction we received there. Most importantly, Samantha thrived with each passing week! She became more focused, calm, and confident. At some point during the course of the program, it was like a light switched on and eyelashes began to come in! By the end of the program, the eyelashes are fully grown, and we have not seen any evidence of the trichotillomania returning. We had tried everything before, and have no other explanation than that Brain Balance works! We now have a confident, thriving, ten-year-old daughter. As in all parts of life, there is always room for improvement, but we have to say that Brain Balance changed our family's life and we are forever grateful."
Sam
"He sees the positive difference the program made in his life and has said many times that he's glad he went through it. I can't say it enough – the Brain Balance program is a program that just should be tried for the sake of any child, tried before medication if possible. It is a journey for you & your child that you will no doubt cherish when you see the positive changes in your child. As I said, it's not an easy journey but one that is so worth the sweat & yes, the tears."
Nicholas, Age 9
"His social abilities have gotten much better."
Matthew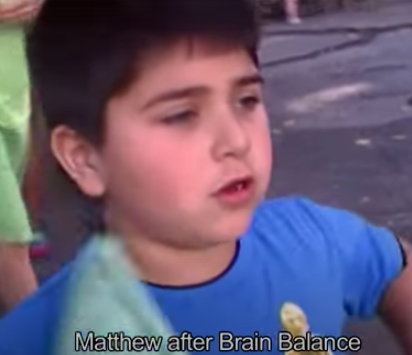 Frequently Asked Questions
Is there any research behind the program?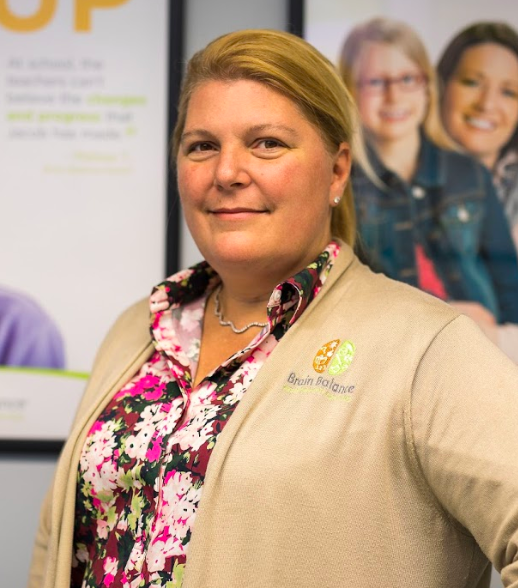 Elizabeth Stoeber
Center Director
Brain Balance of Summit's center director Betsy Stoeber opened in 2011 based on her own son's phenomenal success in the program (he attended the center in Norwalk, CT before there were centers in NJ). Now, almost a decade later, Betsy and her caring staff have supported numerous kids and their families through successful Brain Balance program terms. Betsy's professional background pre-Brain Balance was in business, but she has eagerly made the transition to working with children and families. She holds a MBA from NYU's Stern School of Business and a BA from the University of Michigan. In early 2011, she successfully completed training through the Brain Balance Academy, training directly with Brain Balance founder Dr. Robert Melillo. The story of Betsy's personal involvement with the Brain Balance Program can be heard in this segment of The Dr. Rob Show (a pilot Dr. Melillo created a number of years ago). Betsy continues to further her knowledge of the brain, hemispheric integration, and neurodevelopmental issues of childhood through ongoing training and study. She has made it her mission to communicate with her community about the root cause of the academic, behavioral and social challenges experienced by so many children, as well as to be a source of information for families on parenting and healthy living. Above all, she enjoys being a part of the achievement and success of children – her own, and those who come to Brain Balance of Summit.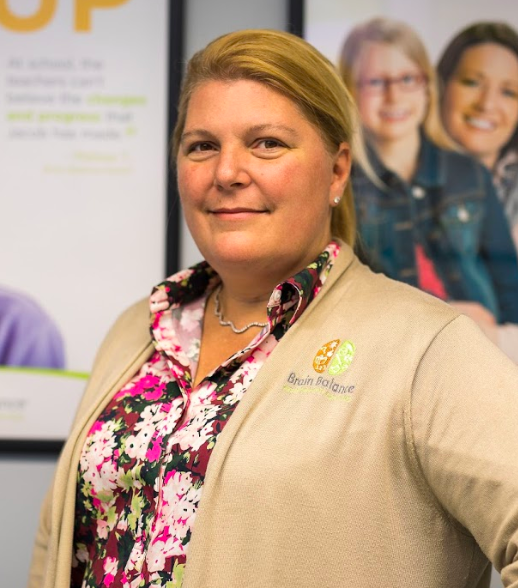 Elizabeth Stoeber
Center Director
Brain Balance of Summit's center director Betsy Stoeber opened in 2011 based on her own son's phenomenal success in the program (he attended the center in Norwalk, CT before there were centers in NJ). Now, almost a decade later, Betsy and her caring staff have supported numerous kids and their families through successful Brain Balance program terms.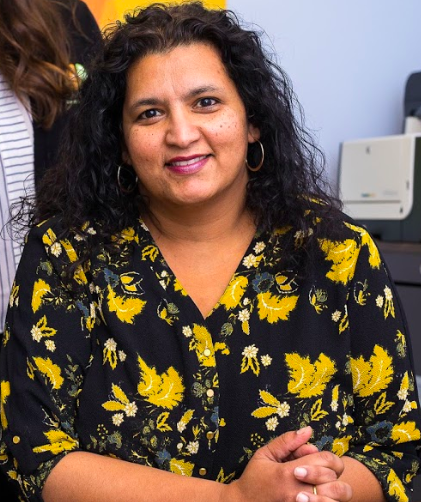 Pragya Balan
Assistant Director
Pragya joined the Brain Balance of Summit staff after experiencing her own child's growth and accomplishments in the program. After speaking with many families on an informal basis about her love of the program, Pragya felt inspired to join the team. With a background in sales, marketing and advertising, Pragya enjoys the daily interaction she has with families seeking solutions for their struggling children.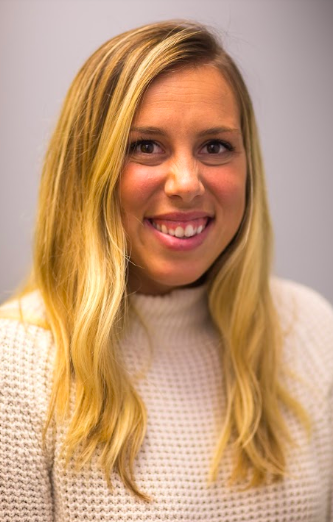 Kyla Murray
Program Director
Kyla Murray is the Program Director at Brain Balance of Summit and is trained in all aspects of the Brain Balance program. As the Program Director of Brain Balance of Summit, Kyla is the face and voice that welcomes parents and children to the center and she also works with our students in both the sensory motor and cognitive session segments. She has always enjoyed working with children of all ages to help them reach for their goals and strive for their highest potential.
Webinar Events
Every month we offer a free webinar on a common struggle that children and young adults across the country may experience. Each of these webinars offers information, actionable strategies for change, as well as a deeper understanding of WHY these challenges are happening and how to address the root cause.
Register Now.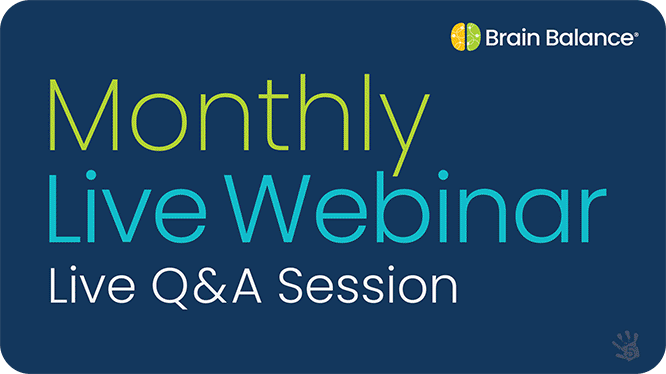 Brain Balance Events
Webinar: What is Brain Balance? What do we do? How can we help your family?
When: Thursday, January 13th, 2022 @ 7pm
Register in advance for this meeting here.
If you can't attend, you can watch the recording.
Let's get your questions answered! Join us for open discussion with questions and answers to help you gain a better understanding of the work we do and whether we'd be a good fit for your family.
Host: NJ Center Director, Betsy Stoeber
After registering, you will receive a confirmation email containing information about joining the meeting.
NJCTS Sponsored Webinar "A Neuroplasticity-Based Approach to Tics" By Brain Balance of NJ's Betsy Stoeber
It's well understood that tic disorders are neurological in nature and usually follow a common developmental course. Most often, this course leads to abatement of symptoms in adulthood, even in relatively severe childhood cases. What's behind the common course of tic disorders and what if we could speed the process up? Join Betsy Stoeber, the director of Brain Balance of Northern NJ, to talk about the therapeutic potential of brain plasticity-based approaches. Feel free to invite others you think would benefit from this discussion!
Watch the Webinar Recording
About NJTCS (njcts.org)
In 2004, NJ Center for Tourette Syndrome & Associated Disorders, Inc. (NJCTS) received funding from the State of New Jersey to create a Center of Excellence that would provide programs and services to support families, public outreach and awareness campaigns, and education for schools and healthcare professionals in every corner of the state. More than 15 years later, that funding has also helped NJCTS expand its reach beyond NJ through programs such as educational webinars, virtual support groups, the NJCTS Tim Howard Leadership Academy, and the NJCTS Family Retreat Weekend.

Research into the cause and treatment of TS is also of paramount importance, and NJCTS—the first and only Center of its kind in the nation—is at the forefront of addressing the need for more effective treatment options, as well as support and professional assistance for individuals with TS and their families. NJCTS provides referrals for medical diagnosis, treatment and psychological services; coordinated family support among partner and community organizations; education and training at medical schools and universities to develop a new generation of professionals who are knowledgeable about TS and its associated disorders; and outreach to practicing physicians, educators, and medical professionals.
WELCOME TO BRAIN BALANCE CENTERS OF NORTHERN NEW JERSEY
Brain Balance helps children who struggle behaviorally, socially, and academically through a holistic and integrated approach that is customized to meet the needs of each child.
Read more about the Centers
Location
33 Union Place
2nd Floor
Summit, NJ 07901
140 Hopper Avenue
Waldwick, NJ 07463
Hours
Summit
Mon – Fri: 9:00 AM – 7:30 PM
Bergen County
Monday to Friday: 9am – 7:30pm