Brain Balance Bergen County Reviews & Testimonials

Reviews & Testimonials from Brain Balance Bergen County Families
---
"I strongly recommend this program to parents who think their child has potential but is not doing well because of attention or behavior issues. I am extremely happy that I found Brain Balance."
---
"Matthew was diagnosed with PDD-NOS at age 3. He started Brain Balance at age 5. His course of development has been changed forever. He still has challenges but they are narrowed down to more specific issues. The family is not as overwhelmed as they were in the past when he was dealing with so many different challenges."
---
"After 12 weeks of Brain Balance, our daughter was in a place of expanded neurologic readiness."
"I first heard about Brain Balance in October of 2010 from a mother/speech pathologist/yoga teacher who shared that her son had improved so dramatically after 36 weeks of the program that he no longer met criteria for Asperger's and ADHD. This was after years of exhaustively trying other approaches. While there was no local program at the time, we were willing to take our daughter whatever distance as she was 4 years old and non-verbal because of a profound apraxia (inability to plan and sequence motor activities). She hadn't walked until the age of 2 and had significant issues navigating her physical environment because of the apraxia. She also had, what appeared to us to be a hemispheric weakness, always protruding her tongue to the left and almost ignoring one side of her body and physical surroundings.
My husband and I being physicians, we brought our daughter to many "skilled diagnosticians". Not only were we not offered a useful diagnosis, we were not offered any guidance towards targeted therapeutic interventions. So in 2010, this other mother renewed our hope, but then a life changing accident, just one week after that hope was sparked, removed me from my family for months. That mother's testimonial about her son's healing was long forgotten. Until one day, during my prolonged recovery, I saw an advertisement for Brain Balance's opening in Allendale. It triggered a memory of that remote communication with that mother. I uncovered the old email and made the call to Dr. Yola Barbosa in Allendale. She evaluated our daughter and suggested she might benefit from a left brain stimulation program. Within 1-2 weeks of beginning the program our daughter was alternating feet when walking up stairs, something that she had not been able to do previously, even at over 5 years of age.
This was a strong suggestion to me that both sides of her brain were starting to work in partnership to coordinate her movements. She started approximating a couple of words in sequence. And, of utmost importance to my mother, who was so devoted to helping in the care of my daughter, she started saying 'Nonna.' After 12 weeks of Brain Balance, our daughter was in a place of expanded neurologic readiness. She is now 7 and while still struggling to make herself verbally understood to her peers, she is much better functionally.
Dr. Barbosa and her team were wonderfully kind and generous in their care of our daughter. They coordinated with her elementary school teachers and therapists to refine a more holistic, comprehensive program to address her neurologic needs. I am exceptionally grateful to them and expect that my daughter will soon enroll for a second 12 week program to help bring her to the next level of neurologic integration."
~Dr. AnnaLisa Pastore, MD
---
"For Crystal, it was so frustrating to see her 7 year old son's bright personality bound by his ADHD. 'There were times when I thought I was looking at a totally different kid' she said. In a video, she shares candidly what Maddox's transformation has been, as a result of the Brain Balance program."
---
David was diagnosed with dyslexia, but also misdiagnosed with ADD. We found that he exhibited task avoidance around school work because he had difficulty reading due to a left hemisphere weakness. His parents found Brain Balance in Allendale, NJ and chose to stop his his ADD medication after learning what his true underlying issues were. Since Brain Balance, school is much easier for David and he is eager to learn. The whole family is thrilled with his progress!
---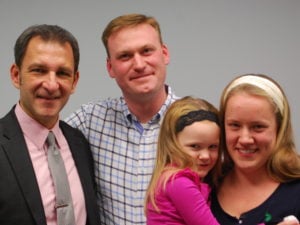 "Above all, our little girl is loving life in a positive way!"
A simple question: Q: How far would you go to help your child? A: Multiple choice
30 minutes?
3 hours?
Whatever the distance that lies between you and a Brain Balance Center?
To take advantage of what we considered the best treatment available for our daughter we moved to New York from the United Kingdom between July and December 2013! From the day Arielle was born she was very sensitive and anxious. Just before she turned 3 yrs old, Arielle developed some severe behavioral and social issues that made a big impact on our daily family life. We tried various avenues of help with no success. At the end of 2012 we were put in touch with Brain Balance via a friend who had proved fantastic results with their son who had done the program. After identifying that the UK had nothing to compare with the Brain Balance Program we took the big decision to temporarily move to New York to be able to attend a Brain Balance center and complete the program. This took several months of planning, obtaining visas etc. Understandably, this involved cost and sacrifice in many areas.
At the beginning of the program there were a few stages that Arielle got worse before she got better, as the Brain Balance staff had mentioned would happen. However the outcome was worth waiting for – it's not a quick fix, these stages need to happen, it's been a lasting and ongoing improvement. The excellent result has been worth every step. We now have a very happy daughter who has confidence, can reason, can react to good or bad situations in a balanced way, is stronger physically, is making new friends, is accomplishing big steps forward academically with a very strong willingness to learn….. she now has the ability to achieve her full potential now and in the future! Above all, our little girl is loving life in a positive way!
When we returned to the UK and Arielle went back to her school for the first time her teacher was amazed – her words to us on the first day back were "She's a 'different child', interacting, making friends, being sociable and her eyes are different – she is so happy" Dr. Melillo and his outstanding centers are a phenomenal provision for the people of the United States and one that will hopefully extend worldwide in time.
Thanks Dr. Melillo for your skilled help and care. Also a BIG thank you to Dr. Yola and her team at Brain Balance of Allendale, New Jersey! Dr. Yola, Josie and the coaches make an incredible team. To anyone reading this who has a child with developmental issues or similar condition we would strongly urge you to do all you can to connect with a Brain Balance Center near you. You will be undoubtedly doing the best for your loved one and investing everything in their potential."
~Scott & Anna Swansea, UK
---
"Her processing is much better too."
"Anna did her homework today all by herself and she did it quickly and with little help! Such an improvement. I am amazed how quickly she read the problem, processed the information, and answered the questions. She beat me! I am really impressed and amazed! She is also talking so much more and saying phrases that are amazing to me. She is also speaking clearer too.
When she grabs my hand, I can feel the muscles developing in her arms and hands. She has gotten so much stronger. Her processing is much better too. Rarely do I have to repeat myself when I am talking to her. She also is not losing objects around the house as much anymore…"
---
"I don't have to worry about Daniel anymore because now he can read" said his father.
---
"Over time, this leveled off resulting in a more mature and respectful child."
"My child has gone from below grade level to above grade level. He is now one of the highest performing students in his fifth grade class. Brain Balance has also helped him to gain physical control and restraint from constant movement and has helped him to vastly increase his focus and attention span. He is now noticeably more able to process and absorb information as it is presented to him. This is most apparent in his mathematical calculation skills and word problems.
The results for us were not apparent for quite a while. You need to trust the program and the time frame given to you by the professionals at Brain Balance that are working with your child. Results came almost exactly as they explained they would. The behavioral changes were apparent far before the academic improvements. My child was more irritable at first, but it was explained to me that he was experiencing feelings he had not been able to before which was expected, and indicates progress. Over time, this leveled off resulting in a more mature and respectful child."
~Kelly S.
BRAIN BALANCE CENTER OF BERGEN COUNTY
Brain Balance helps children who struggle behaviorally, socially, and academically through a holistic and integrated approach that is customized to meet the needs of each child.
Location
140 Hopper Avenue
Waldwick, NJ 07463
Hours
Monday to Friday: 9am – 7:30pm