Brain Balance Center of Woodbury – Meet Our Staff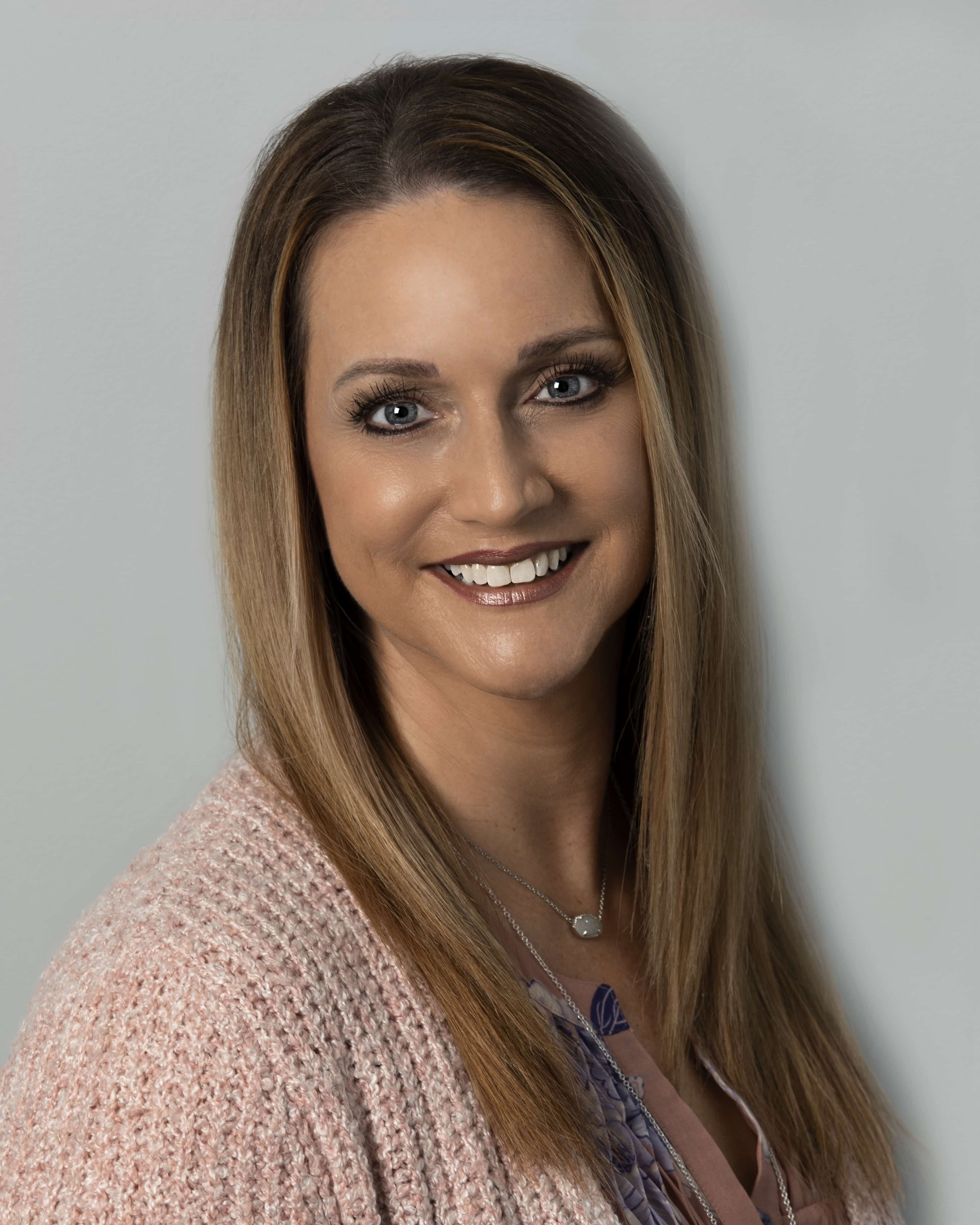 Dr. Michelle Robertson
Executive Director
Dr. Michelle Robertson has spent her professional career helping others improve their lives and is dedicated to the Brain Balance program. A Texas native, Dr. Robertson now lives in Wichita, Kansas, and serves as the Executive Director for the Wichita, Nashville, and Minneapolis centers. She loves traveling and is thrilled to be helping children and adults in the Twin Cities through the miracle of Brain Balance.
Dr. Robertson earned a doctorate in Marriage and Family Therapy from The University of Louisiana at Monroe, a master's degree from Abilene Christian University, and a bachelor's degree in Spanish and Psychology from Midwestern State University. She is a tenured professor at Friends University and practices as a Licensed Clinical Marriage and Family Therapist in the greater Wichita area. In addition to her private therapy practice, her work as a tenured professor, and her involvement with Brain Balance, Dr. Robertson is a member of the Wichita Junior League and a clinical member of The American Association for Marriage and Family Therapy. She and her husband have two children, both of whom have completed the Brain Balance program.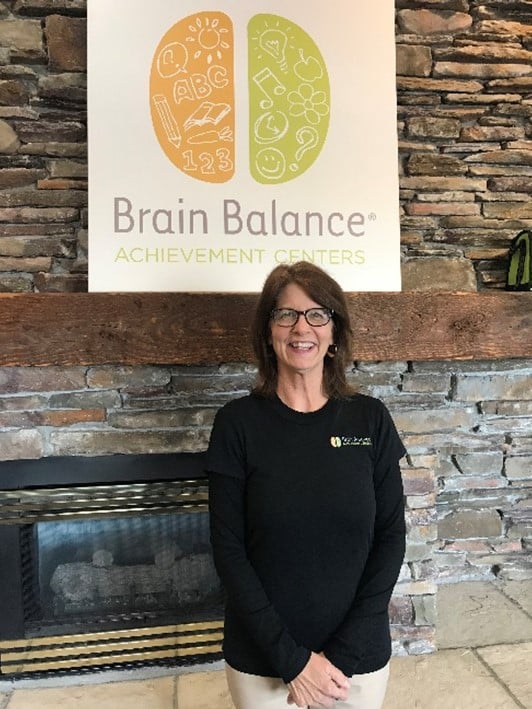 Sheila Dwyer, MA, LMFT
Center Director
Sheila has a Master's degree in Counseling from University of St. Mary's-Minnesota. She is a Licensed Marriage and Family Therapist and has been practicing in the field for over 15 years. She has worked in a variety of settings; in-home, private practice, inpatient, and middle/high schools. Her passion is working with children and families in the school setting where she worked closely with teachers and guidance counselors to support students who were struggling with ADHD, EBD and Learning Disorders and assisted in collaboration with teachers and parents on a child's IEP plan. Sheila also was an adjunct professor at local community colleges where she taught family systems theory; the understanding that when one member of the family is experiencing challenges, the whole family is affected.
Sheila is passionate about helping children and families have successful experiences in life; promoting individual well-being and family health. Sheila is married with 3 children, 2 boys and 1 girl. She strongly believes that helping children is a multi-faceted approach and she is enthusiastic about bringing Brain Balance to Minnesota. The program promotes positive changes that allow children to be successful at home, school and social environments.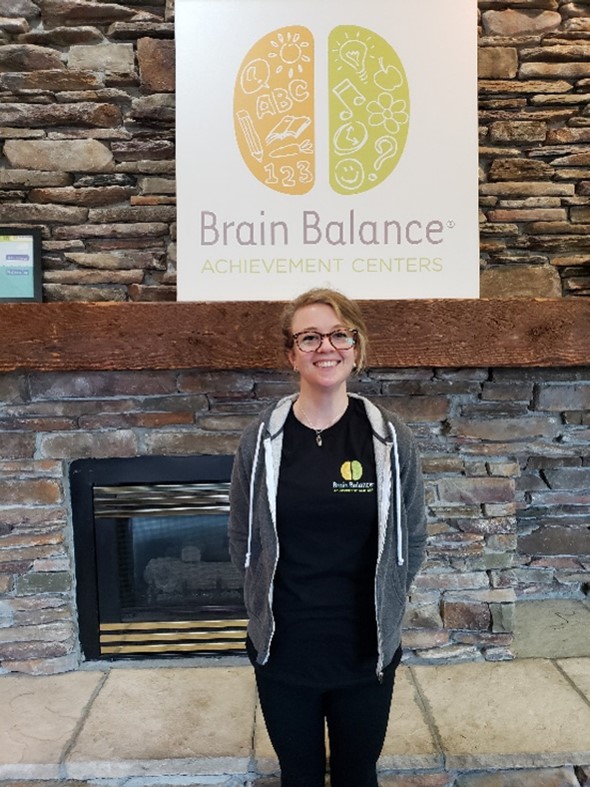 Kate Jandric
Program Assistant
Kate is pursuing a bachelor's degree in Psychology and then will continue her educational journey by pursuing a Doctorate of Psychology. Her end goal of becoming a trauma therapist for children is inspired by her desire to make all kids feel heard, seen, and safe. She loves working at Brain Balance because she gets to help kids of all ages progress forward in their learning journeys. It makes her so happy seeing kids achieving their goals and becoming so proud of themselves when their goals have been met! In Kate's free time she enjoys hiking with her dog, spending time with the amazing women in my church group, dancing, listening to all kinds of music, and baking tasty snacks.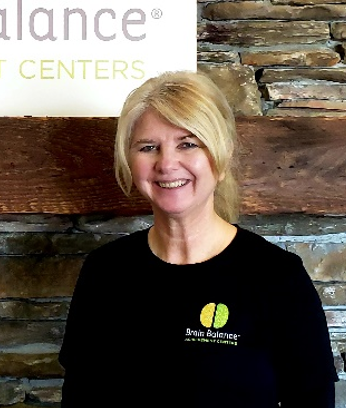 Anita Bruno
Sensory Motor Coach
Anita has a Master's degree in education from Hamline and a Bachelor of Science degree from Winona State University. She has been a K-6 teacher for over 10 years and loves working with kids! Anita lives in Woodbury with her husband and three kids. In her spare time, she enjoys reading, gardening, being outside, and long-distance biking. Anita thinks Brain Balance is an amazing place because of the supportive coaches and wonderful kids. She enjoys coaching the kids to do their best and loves to see their improvement.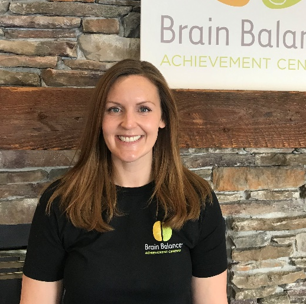 Susan Banick
Sensory Motor Coach
Susan is currently working on her Master's degree in Counseling and Psychological Studies at Saint Mary's University of Minnesota. Previously, Susan was a police officer paramedic for 12 years. During that time, she sought out roles that allowed her to pursue her personal mission of uplifting future generations. She took on numerous youth mentoring roles, and created a leadership program for middle school girls. Susan enjoys working with kids because she believes every child can achieve great things and has unique talents to be celebrated. In her free time, she enjoys cooking with her son, yoga, paddle boarding, and theater.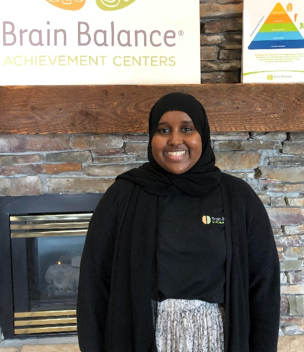 Khadra Ahmed
Sensory Motor Coach
Khadra has a Bachelor's of Arts in Communication with a minor in Sociology from the College of Saint Benedict. Previously, she worked as an Assistant teacher in Okinawa, Japan for two years teaching English as a foreign language. Khadra's experience includes working with kids of all ages in school and outside of school settings. Throughout college, Khadra spent time as a volunteer at her local Boys and Girls Club and working as a personal care worker for children with autism. Khadra loves working with kids and helping them achieve their goals. She is passionate about making spaces and opportunities for all kids no matter their background, experiences, and exceptionalities. She hopes of one day becoming a speech pathologist. At Brain Balance, Khadra enjoys seeing kids work to meet new challenges and continue grow. In Khadra's free time, she enjoys reading, cooking new foods, and spending time with her family and friends.
BRAIN BALANCE CENTER OF WOODBURY
Brain Balance helps children who struggle behaviorally, socially, and academically through a holistic and integrated approach that is customized to meet the needs of each child.
Location
700 Commerce Drive
Suite 100
Woodbury, MN 55125
Hours
Monday 10am - 7pm
Tuesday 10am - 7pm
Wednesday 10am - 5pm
Thursday 10am - 7pm
Friday 10am - 5pm
Saturday: By Appointment Only