Welcome to Brain Balance of San Diego

Brain Balance of San Diego Events
OPEN HOUSE: FREE Dynamic Vision Skills Test (in-person)
Chula Vista center: October 2nd & 3rd 3:00 PM - 6:00 PM
Encinitas center: October 11th & 12th 3:00 PM - 6:00 PM
San Diego center: October 18th & 20th 3:00 PM - 6:00 PM
Some of life's most basic activities rely on your dynamic vision—eyes, eye muscles, and brain working together—such as driving a car, reading a book, and maintaining your balance. Signs that you may be struggling with dynamic vision skills include difficulty concentrating, short attention span, difficulty with reading, and more. Receive a free dynamic vision skills test ($95 value) and learn more about how the Brain Balance program can help you and/or child excel. Reservation required. Limited availability.
RSVP: bit.ly/bbsdeyes1023
How to Talk to Kids About Anything
Thursday, October 5th, 2023 9AM PT | 11AM CT | 12 PM ET
Join us for an engaging conversation between two distinguished experts, Dr. Rebecca Jackson, Chief Programs Officer of Brain Balance, and Dr. Robyn Silverman, renowned child development specialist and author of the recently released book titled "How to Talk to Kids About Anything". Together, they will explore the art of navigating those tricky, unexpected questions that children often pose, offering invaluable strategies, scripts, and insights to help you communicate effectively with your kids.
Register at www.brainbalancecenters.com/webinars.
ADHD and the Brain
Thursday, Oct. 19, 2023 10:30 AM & 5:00 PM PT
Hyperactivity, impulsivity, and inattention are the hallmark challenges children and young adults with ADHD face. Join us as we discuss the root cause of ADHD symptoms like inattention and impulsivity and how to address this cause, rather than coping with the symptoms. Learn how Brain Balance can help address the underlying cause, and what you can do to help conquer ADHD symptoms.
Registrants will receive a resource guide!
RSVP: bit.ly/h5mworkshop
San Diego Family Fun Fest - Halloween! (FREE Event)
October 22, 2023 10:00 AM - 1:00 PM
The Corner Zone, Salvation Army Kroc Center (6845 University Ave., San Diego, CA 92115)
Summon your fellow mummies, and gather the whole family for an unforgettable Halloween experience! Don't dare to miss the hair-raising thrills we have in store for you: trick-or-treating, enchanted costume parades, thrilling dance parties, a haunted zipline, eerie inflatables, chilling Halloween crafts and more! Visit the Brain Balance booth for a chance to win a free assessment.
Register for FREE here.
Food Drive with The Jacobs & Cushman San Diego Food Bank
October 24, 2023 through December 21, 2023
Nutrition is an important part of the Brain Balance program. The Jacobs & Cushman San Diego Food Bank and our North County Food Bank chapter provide nutritious food to people in need, advocate for the hungry, and educate the public about hunger-related issues.
We invite you to support our community in need by DONATING non-perishable items such as canned meats, canned vegetables, peanut butter, pasta/rice, oatmeal/cereal, and more through the end of November. We cannot accept glass jars, home canned, or baked goods.
DROP-OFF your generous DONATIONS during normal business hours at each respective Brain Balance of Greater San Diego center.
Virtual Donations accepted: https://bit.ly/bbsdfooddrive23
Halloween Candy Buy-Back
November 1-3, 2023
Halloween can be a scary and stressful time of year for both children and families with sensory challenges and food allergies or sensitivities, including from artificial dyes and sugars. As participants of the Teal Pumpkin Project, we are offering families a safe and inclusive opportunity to participate in a Candy Buy-Back event. The whole family is encouraged to bring in their candy and exchange it for fun toys, activities, and gift cards, while supplies last. Free center tours and limited time assessment specials will be offered to attendees. RSVPs encouraged. Drop-off your candy during normal business hours at each respective Brain Balance of Greater San Diego center.
RSVP: https://bit.ly/bbsdcandy23
The Live Well Advance Conference & School Summit (FREE)
November 1, 2023 8:00 PM - 5:00 PM at San Diego Convention Center
The Live Well Advance Conference & School Summit brings thousands of partners and stakeholders together to network, learn about new tools and best practices, and participate in 50+ breakout sessions and exhibitor booths. Leaders from every sector come together to participate in efforts to advance our shared vision of a healthy, safe and thriving San Diego region.
Brain Balance of Greater San Diego is a recognized Live Well and Live Well Schools Partner. Visit us at our exhibitor booth for a chance to win a free assessment and attend our breakout session with San Diego County's Sheriff's Department, "Inclusion and Safety: Understanding Neurodiversity and What It Means to Be a Blue Envelope County Blue Envelope Program." Register here: https://www.livewellsd.org/events/live-well-advance
Webinar Events
Every month we offer a free webinar on a common struggle that children and young adults across the country may experience. Each of these webinars offers information, actionable strategies for change, as well as a deeper understanding of WHY these challenges are happening and how to address the root cause.
Register Now.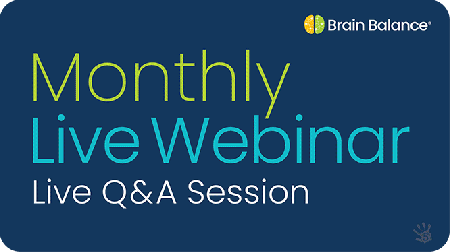 Find more content about us, webinars on demand, and our Brain Balance Program
BRAIN BALANCE OF SAN DIEGO
Brain Balance helps children who struggle behaviorally, socially, and academically through a holistic and integrated approach that is customized to meet the needs of each child.
Location
10175 Rancho Carmel Drive
Suite 124
San Diego, CA 92128
Hours
Monday – Friday: 11:00 a.m.- 7:00 p.m.
Saturdays by appointment only