Improve Focus and Behavior at Home with Brain Balance's Virtual Program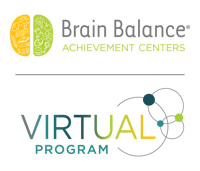 The Brain Balance Virtual Program is a 3-month, at-home program that builds progressively as you go along, providing the building blocks needed to help your child improve.
How Does it Work?
When kids struggle with focus, behavior, anxiety or sensory processing, it can be linked to weak connections across different regions in the brain. But the good news is, we know that the brain can change.
The Brain Balance Virtual Program is designed to strengthen and build new connections to help your child get to the root of their struggles -- in the brain, where they process and react to the world around them.