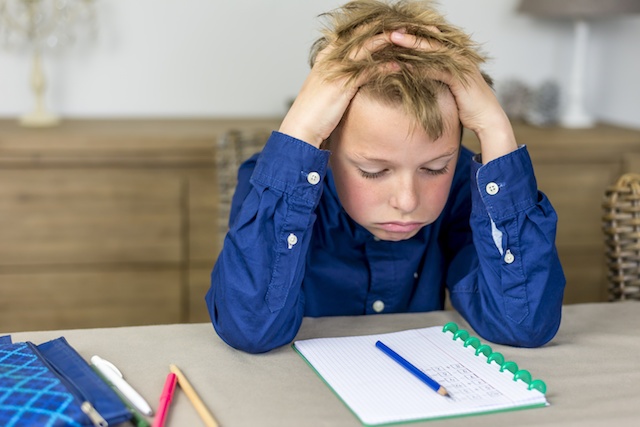 Children with academic struggles related to ADHD, learning disabilities or processing disorders experience problems with focus and staying on track. This tendency towards inattention means that it may take several hours for them to complete an assignment that may only take their peers a few short minutes. Fortunately, there are steps that parents can take to keep their children focused on studying and completing homework assignments.
Create a Study Zone
One of the best techniques is to create a designated study area. This area should be located in a quiet area of the home where there are no distractions. Tools in the area should be limited to only what is required to complete the studying or homework task at hand. Children with learning struggles and attention issues often respond well to structured activities and routine; if possible, this area should only be used for studying and completing school work to be most effective.
Use Simple Organizational Methods
Parents can help their children keep their school work organized by using simple organizational methods. For instance, all math work goes into a red folder, while English work goes into a blue folder. This will help children keep track of important papers and ensure that they are not overwhelmed with unrelated papers when working one subject.
Set a Timer for Studying and Completing Assignments
Using a kitchen timer and setting it for a particular amount of time is an excellent way to keep children on track. Through the use of the timer, children are able to visualize how much time they have available. In the event that they have gotten off track, the buzzing of the timer will likely redirect them. This tactic may also be useful for scheduling breaks in-between completing assignments or reading chapters of a textbook.
Switch Subjects or Assignments
If a child with academic struggles has been working on an assignment for a lengthy period of time, it can be helpful to switch to a different subject. Most children have a subject that they prefer. A change of pace offers the child a break while still completing work that needs to be done. After an alternative task is completed, allow for a short break from studying and then encourage the child to tackle the original assignment.