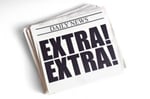 The University of California - Davis Center for Mind and Brain recently released a report showing that children with attention deficit hyperactivity disorder (ADHD) have areas within their brains that fail to connect when they attempt a task that measures attention.
"This is the first time that we have direct evidence that this connectivity is missing in ADHD," said Ali Mazaheri, postdoctoral researcher at the Center for Mind and Brain.
The study involved giving children diagnosed with ADHD and normal children a simple attention test while their brain waves were measured. According to Ali Mazaheri, the results of the study show:
"The brains of the children with ADHD apparently prepare to attend to upcoming stimuli differently than do typically developing children." he said. Children with ADHD did improve their reaction times when properly cued, but they don't seem to allocate resources as efficiently, Mazaheri said. This is the first evidence from brain electrical patterns for a functional disconnection in cortical attention systems in ADHD, he said. Current definitions of ADHD are based only on behavior.
Read more about the research in the article "Disconnect Between Brain Regions in ADHD" as released by UC Davis M.I.N.D Institute.