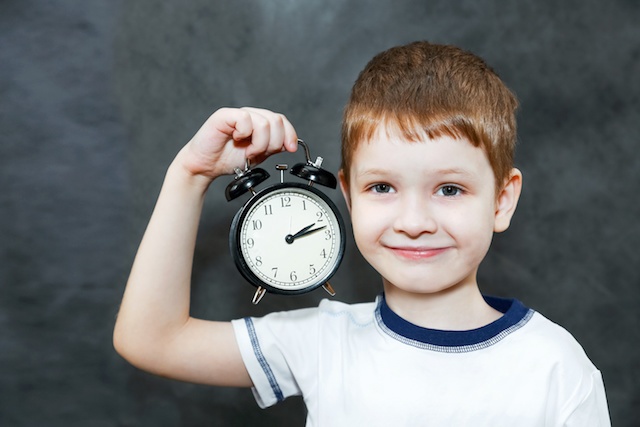 Getting back into the swing of things after a holiday break is tough for families. For parents of a child with behavioral issues or educational differences, however, the transition is especially challenging. Routines and learning disorders usually go hand-in-hand as parents structure their daily lives around their child's unique needs. Breaks are disruptive, but parents can handle the changes using techniques at home and at school.
Early Rise Times
Most kids sleep late over school breaks. To compensate, parents should wake them a bit earlier each day in the period leading up to back-to-school; the change will be easier on adults and children, who should be less resistant to the altered routine. If medications were stopped during the holidays, they can be reintroduced during this period. The gradual reintroduction should also give enough time to readjust to any side effects.
Focused Morning Routine
Schedule changes exacerbate attention issues, but a plan for each part of the day helps a child who struggles with focus. Posting a detailed routine for the morning can also keep the family on track. A point-by-point task list should include everything a child needs to accomplish before heading out the door: get dressed, eat breakfast, pack lunch, et cetera. Parents, too, should adhere to this morning focus by keeping the television and computers off until children are on their way.
Start the Night Before
Good sleep is invaluable for kids with behavioral issues, but it is often difficult to achieve. To make the school days more focused and productive, parents should put energy into a bedtime routine that leaves kids feeling settled. Choosing clothes for the next day and engaging in a relaxing activity, such as listening to calming music before bed, can help with wind-down and eventual slumber.
Communicate With Teachers
A child's needs must be discussed with teachers, especially if that child is starting a new school or getting a different teacher after a break. Small changes in the classroom can support the transition and make life easier for parents and school administrators. Children with ADHD, for example, should have as little exposure to distraction as possible by sitting in the front of the class. Kids may use a detailed task list throughout the day, which will help engage them and encourage a positive connection between routine and ADHD.
Parents often feel they are in a tug-of-war with children who are exhibiting behavioral issues, but their efforts to stay on track during routine disruption can go a long way toward supporting a child's development. With the right structure, everyone can adjust to changes gradually and successfully.