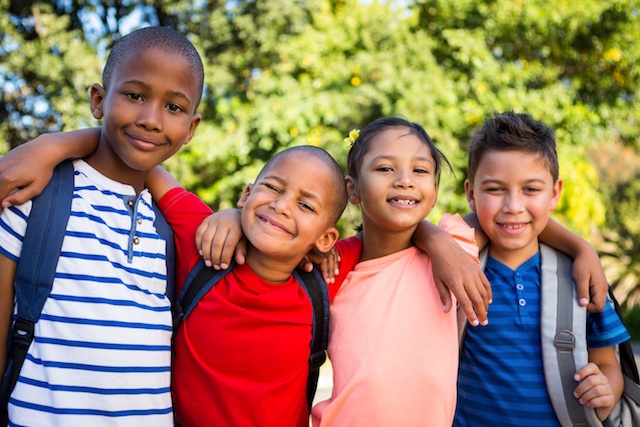 As a parent, it's tough to identify whether or not your child is developing as expected. After all, each child is unique and understanding what is "normal" can be challenging.
When it comes to your child's social skills and in turn, emotional skills, it's important to be aware of key milestones.
Social Expectations by Age
All children develop social and emotional skills differently, and often at varying rates. If your child is not hitting each milestone as anticipated, there is no need to panic. Just remain aware of their development and if they have trouble hitting most of the following milestones, keep a journal and discuss your concerns with your child's healthcare provider.
Infants and babies
Ages 0-6 months: Although there are varying stages and milestones, ranging from two to twelve months, by six months, be mindful whether or not your child responds to the emotions of others and if they are more aware of strangers.
Ages 6-12 months: By twelve months, they should enjoy playing with people familiar to them and enjoy simple games that require social interaction (i.e. peekaboo).
Preschoolers
Ages 1-2: Once again, it's possible to experience a slight gap here, as many developmental changes occur between 18 months and four years. However, by the time your child is two, you may notice a desire to become more independent, resulting in some defiant behavior (i.e. tantrums).
Ages 2-3: Be aware of how they interact with other children and whether or not they're interested in their company. They will also likely begin to imitate others — including both adults and other children.
Ages 3-4: your child should be able to better verbalize how they feel on an emotional level, acting in a caring manner. This is due to an increased awareness regarding the emotions of others. They may begin to express minor anxiety associated with fearful events (i.e. going to the dentist), and will continue to explore the power of independence.
Ages 5-10
When in school, your child should demonstrate the following:
Ages 5-6: Will enjoy playing with their peers and may express what it feels like to be embarrassed. They will likely be helpful while continuing to test social boundaries.
Ages 7-8: Will be more in-tune when it comes to their peers and the reactions of others. Children this age will begin to express their feelings verbally. However, they may still lash out when upset.
Ages 9-10: During this time, your child will likely focus on their own identity and in turn, will be most interested in time with friends. They may be curious, affectionate, selfish, and/or rude.
Nurturing Your Child's Social Development
Positive social development is important for many reasons. Not only will your child's ability to interact with others be critical well into adulthood, but social development is also imperative in relation to your child's language skills, self-esteem, and their ability to resolve conflict.
Studies have shown that when parents interact on a daily basis and are a fundamental part of their child's everyday experiences, they can help their child reach milestones and maintain social expectations. This study, published in Child Development, concluded that children with highly involved parents not only had enhanced social functioning but also fewer behavior problems.
Depending on your child's age, as well as other variables (i.e. a possible diagnosis of a spectrum disorder or ADHD), there are things you can do, including:
During a child's toddler years, respond to their needs so that they learn the power of trust. When interacting with your baby, maintain eye contact and actively speak to them. Involve your child in certain daily activities so that they can interact with others (i.e. while you run errands or meet-up with friends)
For preschoolers, you'll want to lead by example. Express how much you love them through positive physical contact and encouraging words. Encourage cooperative play and book play dates with other children their age.
As your child enters school, communicate with them about the value of social relationships, encouraging them to come to you to discuss any social conflicts.
For over a decade, we've helped over 30,000 children improve the critical skills needed to create a brighter path for their future. If you're concerned that your child is not meeting social or behavioral milestones or is struggling socially or behaviorally, contact us online to learn more about how the Brain Balance Program can help. You can also view the research and results of the program on the website.