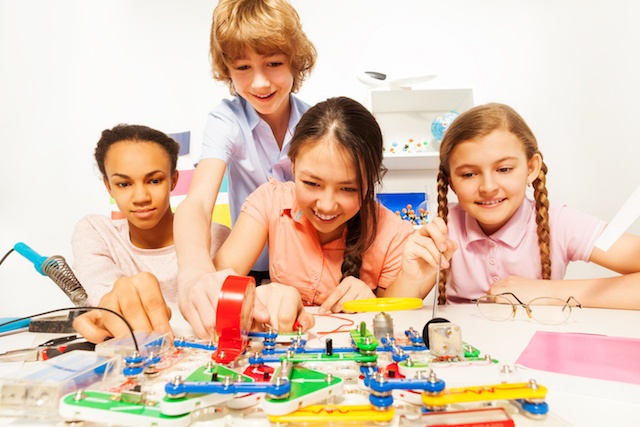 It's time to take a look at one of the most dreaded parts of the school year: the long-term project. Whether it's a science fair project or a research paper, most students struggle with managing their time over a weeks-long working period. For students with executive functioning deficits, such a task can feel nearly impossible.
The trouble is that your child may not be able to see the parts that make up the whole. Because of this basic difficulty breaking things into their components, he likely views that project as a single assignment rather than a series of steps to complete.
Using a Weekly Planner
To help your child understand how his work fills up his time, it helps to make after-school time more visual and concrete. Print out a weekly planner template that has a column for each day. Have your child label a sticky note with each homework assignment and place it on the day it needs to be done. Be sure to also fill in any standing after-school engagements, like piano lessons or hockey practice.
Now have your child see which days look too full. Experiment with moving sticky notes around to lighten the load on the worst days. Does it make sense to do that math assignment a day early? By physically moving the work around, your child can begin to understand exactly how his days fill up and start to take control of his time.
Breaking Down Directions
Once your child has gotten the knack of using the sticky note planner, you can use it as a basis for breaking down big projects into manageable bites. Again, this works best if you make it as concrete as possible. Many projects come with a list of directions with bullet points of what's needed in a final draft — if not, ask your child's teacher to provide one. Have your child use scissors to cut apart the page into the separate steps. There's no clearer way to make the project suddenly look like 10 small things to do instead of one big one!
Once the cutting is complete, have your child arrange the slips of paper on the weekly calendar to determine when he needs to begin working, and how much he needs to accomplish each day. Again, experiment and move pieces around to see what happens if he skips a weekend of work — will the night before be a nightmare? By making abstract directions fully visual and tactile, you can help your child master one of the most difficult academic skills of all and beat the procrastination blues for good.
Enjoy These Related Articles
Executive Functions: Designing a Useful Homework Center
Executive Functioning: More Time Techniques
Executive Functioning: Building an Internal Clock
Improving Executive Function Skills