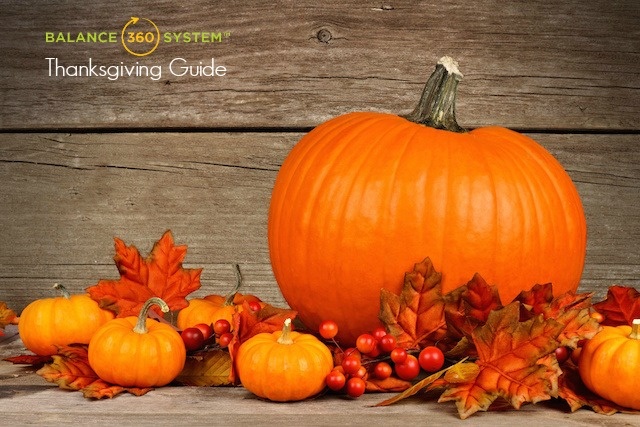 - Holly Larson, RD
Thanksgiving is my absolute favorite holiday. So much so that I host a FriendsGiving in addition to attending my family's Thanksgiving. The joy of sharing a meal with my favorite people (twice) without the pressure of gifts is heaven on earth.
For our Balance 360 families, we have a new set of challenges because not only are we are eating cleanly, we are also excluding gluten, dairy and refined sugar. This will knock many traditional recipes off the menu. Fear not: I have several delicious recipes as well as some guidance for this holiday and others. We can be successful, together!
Whether you are hosting or attending, decisions will have to be made. Will you follow the Balance 360 guidelines 100%? Will you allow your family to have some non-Balance 360 foods? We do not have to be perfect to be successful with Brain Balance, but I do encourage you to be deliberate in your decisions.
As we cruise towards a season of indulgences, think about what your goals for your family are. Discuss it together and decide what "moderation" is going to mean in your home. It may look different than your neighbor or other Brain Balance families, and that it ok. I would strongly encourage you to have a concrete expectation so that you and your family are not on cruise control.
When modifying recipes to meet Balance 360 protocol, a substitute can sometimes make a really similar foods as the gluten or dairy containing original. My Pumpkin Pie filling is creamy dreamy and dairy free. Sometimes they're not close at all. Instead of attempting an alternative to a traditional wheat crust, I instead made one that is like granola. It was unique, crumbly like a graham cracker crust and really delicious!
If your thanksgiving wouldn't be complete with one certain food or recipe, I suggest you work on your Balance 360 version ahead of time. That way you can be confident on the big day! I also suggest bringing cards so that every's dish can be labeled. No need to guess the ingredients! Finally, I would encourage you and your children to role-play. "What will you say if your Aunt puts her famous chocolate chip cookies right onto your plate?". You all will decide what the right answer is so that your child can be confident in her actions on that day - you've already prepared her!
Consider who you'll be sharing the Thanksgiving holiday with and plan ahead. Is there anyone with whom you should have a chat ahead of time? Try to anticipate possible snags and have solutions in mind so that the holiday can be as relaxing as possible. Remind your relatives that very simple swaps can make many dishes Balance 360 approved - sauteing green beans in olive oil instead of butter means everyone can enjoy them. Leaving the cheese on the side allows the Balance 360 folks to eat that salad, too!
Remember that we have so much to be thankful for and that this wonderful holiday is more than the food. Enjoy the laughter and jokes, the football and games and the constructive time to enjoy your many blessings.
With sincere gratitude,
Holly Larson
PS: Keep your family safe with these food safety tips.
---
Thanksgiving Clean Eating Recipes
Roasted Turkey
Note: my mom catered my 30-person wedding celebration last December. The star of the meal was this turkey! This recipe will not disappoint! -Holly
12-22# turkey, fully thawed

Optional: olive oil, salt and pepper

Optional: one stalk celery, one carrot and one onion, roughly chopped
Adjust oven rack to the lowest position and preheat oven to 425.

Remove giblets and such from inside turkey. Dry the turkey with paper towels.

Line a V-rack with foil and poke with several holes. Spray with non-stick spray. Sprinkle veggies into roasting pan, if using.

Rub turkey with olive oil, salt and pepper, if using. Place turkey on rack,

breast side down

. Roast turkey for one hour. Remove turkey from oven and lower temp to 325.

Tip juice from from turkey cavity and flip over using clean kitchen potholders or towels. Turkey is now

breast side up.

Continue to roast until the thickest portion of the breast registers 160 degrees, approximately 1-2.5 hours longer (Ignore the popup timer). Add broth as needed to prevent the drippings from burning.

Tip the juices out again, transfer to a carving board and let rest for 30 minutes before carving.
To make ahead: follow these instructions and then carve. Place turkey slices in reheatable containers with ¼ to ½ inch of broth in the container to keep it juicy.
Easy Homemade Cranberry Sauce
Makes 1 ½ cups
12 oz fresh or frozen cranberries (about 3 cups)

1/2 cup pure maple syrup

zest and juice of one fresh orange

1 tablespoon chopped fresh thyme (optional)
Combine all ingredients in a medium pot.Bring mixture to a boil over medium-high heat.

Reduce heat to medium-low and continue to cook, stirring occasionally, until the cranberries have popped and the sauce has thickened (about 7-10 minutes).
Roasted Cauliflower with Pomegranate Seeds
1 head cauliflower

1 teaspoon olive oil

sea salt

black pepper

2 slices nitrate-free bacon

1/2 of a pomegranate, de-seeded
Preheat oven to 400 degrees.

Trim and rinse cauliflower, break into bite-size pieces.

In a large bowl, toss cauliflower with olive oil, salt and pepper. Transfer to a baking sheet.

Cut bacon into small pieces and sprinkle on the baking sheet with the cauliflower. Bake for 15-20 minutes, tossing halfway through.

Place cauliflower in serving bowl and sprinkle with pomegranate seeds.
Sweet Potato Casserole
Potato mixture
2 medium to large sweet potatoes

3 tablespoons non-dairy butter, preferably unsalted

2 teaspoons pure vanilla extract

⅓ cup non-dairy milk

1 egg

1 tablespoon pure maple syrup
Topping Ingredients
1 cup pecans, chopped

⅓ cup gluten-free flour

4 tablespoons non-dairy butter

1 tablespoon pure maple syrup
Preheat oven to 350 degrees F.

Peel, cube and boil sweet potatoes until tender. If you cut the cubes small enough (1 ½" to 2") they shouldn't take more than 10 minutes. Drain potatoes.

Add the non-dairy butter, vanilla, non-dairy milk, egg and syrup to potatoes and mash/mix together with a potato masher, fork or you an electric mixer.

Transfer mashed potato mixture to a square casserole dish.

Mix together the pecans and gluten-free flour for the topping. Melt the non-dairy butter and syrup together and stir into the pecan mixture.

Evenly spread pecan topping on top of the potatoes in casserole dish. Bake for 20 – 25 minutes or until bubbly.
Kale and Apple Salad
2 tablespoons olive oil

2 teaspoons apple cider vinegar

1 teaspoon fresh squeezed lemon juice

⅛ teaspoon salt

6 cups torn kale leaves, big ribs removed and discarded

½ an apple, cut into thin, 1- inch pieces (I went with Honey Crisp, but Gala would be good as well)

⅓ cup walnuts, chopped and lightly toasted
In a small jar, combine the olive oil, vinegar, lemon juice, and salt. Secure the lid and shake vigorously to combine.

Place the kale leaves into a large salad bowl and, using your hands, sort of massage the olive oil mixture into the leaves.

Throw the apples and walnuts on top of the kale and lightly toss to combine.
Pumpkin Almond Butter
1 cup creamy unsalted almond butter

3/4 cup canned pumpkin

1 tablespoon maple syrup

1/2 teaspoon pumpkin pie spice

1/8 teaspoon salt
In a medium mixing bowl, add almond butter and fold in pumpkin, maple syrup, pumpkin pie spice and salt until combined.
Pumpkin Pie with Granola Crust
Crust
1 cup walnuts

1 cup gluten-free oats

3 tablespoons coconut oil

1 tablespoon maple syrup

1/8 teaspoon salt
Filling
1 can pumpkin puree

1 package silken tofu (10 or 12 ounces)

2 teaspoons pumpkin pie spice

1 teaspoon vanilla

1/2 cup maple syrup

2 tablespoons cornstarch
Preheat the oven to 350 degrees F. Lightly grease a 9-inch pie dish with coconut oil.

In a food processor, pulse walnuts, gluten-free oats. coconut oil, maple syrup, and salt to combine.

In a food processor, pulse walnuts, gluten-free oats. coconut oil, brown sugar, and salt to combine. Bake empty crust for 10 minutes. Remove from oven and set aside.

Turn the oven temperature up to 400 degrees.

In the meantime, in a blender or food processor, add pumpkin, tofu, vanilla, pumpkin pie spice, syrup, and cornstarch. Blend to combine until smooth.

Pour pumpkin filling into pie dish. Bake for 60 minutes.
Coconut Milk Whipped Cream
1 can full-fat coconut milk

Optional: 1 teaspoon maple syrup to sweeten

Optional: 1/2 teaspoon vanilla extract
Store the can of coconut milk, upside down, in the fridge overnight.

Open the can of coconut milk and discard the semi-clear liquid that's sitting at the top Depending on the brand, you may be left with hardened cream or thick white milk. Add that to the mixing bowl. Using an electric mixer, whip until stiff peaks begin to form (about 5 minutes).

Optional: Add maple syrup to sweeten and/or vanilla and whip to combine.
Cinnamon Apple Crisp
Apple Filling
3 cups chopped apples (peeled and cored). a combination of varieties works best

1 teaspoon cinnamon

2 tablespoons non-dairy butter (or coconut oil), melted

2 tablespoons honey

1 tablespoon gluten-free flour

2 tablespoons apple cider (or apple juice, or water)

Optional: nutmeg, pumpkin pie spice vanilla extract
Crumble Topping
¾ cup rolled oats

½ cup gluten-free flour

½ cup walnuts, chopped (could also substitute pine nuts)

¼ cup non-dairy butter (or coconut oil), melted

2 tablespoons honey

½ teaspoon cinnamon

¼ teaspoon salt
Preheat oven to 375 degrees. Grease 8 half-pint jars, oven safe ramekins or one pie plate. Place jars or ramekins on one large baking tray.

Toss all filling ingredients together in a bowl and then divide evenly between the jars or ramekins.

Use the same bowl to mix the topping ingredients. Cover apples with topping evenly.

Cover the jars with one large piece of foil and bake for 25 minutes. Remove the foil, turn the oven up to broil, and cook for 2 to 3 minutes longer or until the topping turns a light golden brown.
---
To learn why our whole-child approach is the most effective way to help your child overcome their learning, behavior, and social challenges, contact us online or find a center near you.
---
Enjoy These Articles Related to Thanksgiving
6 Tips to Help Kids Avoid Sensory Overload This Thanksgiving
Holiday Travel and a Child With Behavioral Issues