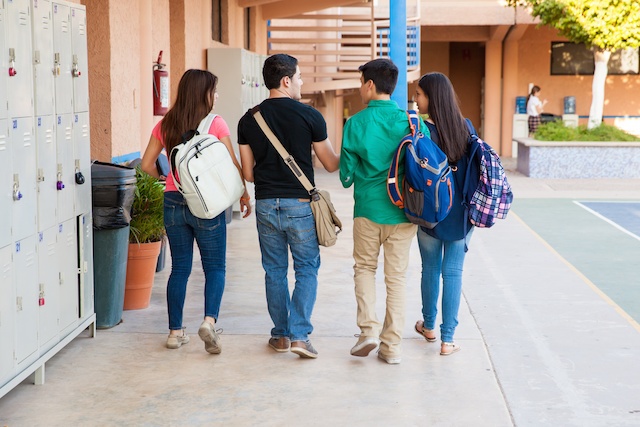 When it's time to go back to school, a learning difference can often impede your child's academic progress especially as he or she enters middle school. First, anticipate potential issues your child may experience with a middle school learning disorder, such as issues with more difficult coursework, organizational challenges and logistic issues. Talk with your child about the transition to middle school and brainstorm solutions to potential problems together. The following middle school tips for learning differences will help ease the transition as your child heads back to school.
Visit the School
Starting middle school is a significant transition. Instead of one primary teacher and classroom, students change classes and teachers regularly, with periodic stops at their lockers for classroom supplies. Not only can remembering a locker code be an issue, but for a child with a middle school learning disorder, it may be particularly challenging to navigate the hallways, keep track of the bell schedule and get to class on time. After your child receives a class schedule, visit the middle school to walk through the schedule together and time how long it takes to get to each class. If possible, arrange a meeting with the guidance counselor to discuss your child's unique needs.
Establish Actionable Academic Goals
Setting actionable goals at the beginning of a school year empowers students to take control of their academic progress. Sit down with your child to discuss any issues that may have occurred the previous school year, such as tardiness in turning in homework, not asking for help with more demanding coursework or forgetting to study for tests. Some examples of actionable goals include "This year I will write down all of my assignments as soon as I receive them," and "If I'm having trouble in a class, I will ask the teacher for extra help."
Improve Organization
Organizational tools are especially important for children with learning disorders. Provide your child with a homework planner and a large, three-ring binder. Add color-coded dividers to the binder for each subject to help your child keep track of schoolwork. A separate folder for assignments can also be helpful. Label one side of the folder "Homework to Do" and the other side "Completed Homework."
Create a Routine
In middle school, a learning disorder can interfere with completing assignments on time. Get your child into an after-school routine. Allow a short break after school followed by a set period of time for homework. Using a timer can help keep your child on track with work times and break times.
To get your child off to a good start this school year, it can be helpful to periodically review goals, progress and problems. Overcoming challenges associated with heading back to school with a learning disorder takes time and dedication, but it can be done.
---
Middle school is not too late to get help! If your child struggles with learning or has been diagnosed with a Learning Disorder, contact us online or find a center near you to learn more about how the Brain Balance Program can help.