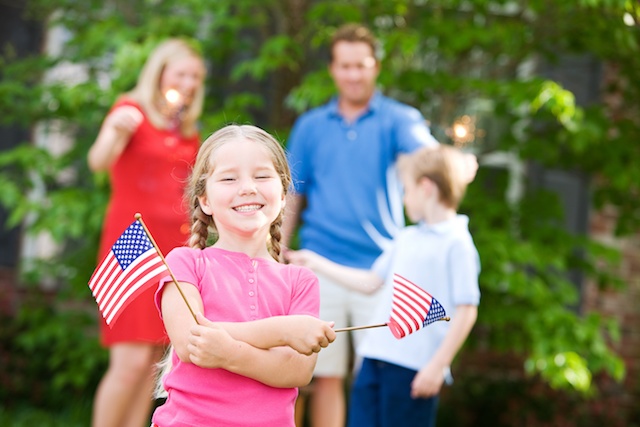 Help your child avoid sensory overload and sensory-induced meltdowns this Independence Day! July 4th can be a fun time for families, but if your child has sensory processing disorder or sensory issues related to anxiety, Asperger Syndrome (ASD), or ADHD, it can be overwhelming. Here are some tips and strategies to help parents prepare their children for the sensory over-stimulation that often accompanies Independence Day festivities.
Pick and Choose Activities: The Fourth of July holiday offers many activities that can be stressful for a sensory sensitive child. It's important to limit their sensory exposure by limiting the day to include one or two of your favorites. Let your child help you choose activities that interest him or her most.
Limit Junk Food: Proper diet and nutrition are critical elements to managing behaviors associated with neuro-developmental disorders. Children with special needs are often more affected by the sugar, gluten, and artificial ingredients found in many of the red, white and blue colored delectables that fill the day. This often results in uncontrollable hyperactivity and the eventual "crash". Help your child avoid the meltdown by choosing healthier options like fruits and vegetables instead of candy and sugary desserts. Be prepared by bringing snacks from home that meet your child's special diet requirements.
Reduce Sensory Input: If you choose to attend the fireworks display with your sensory-sensitive child, you may consider bringing ear plugs or headphones to help reduce the volume of the sounds that accompany the big show. You may also consider picking a location that's not too crowded. Bring sunglasses if your child is easily overwhelmed by visual input. Come prepared with items from home that comfort and calm your child.
Set Expectations: Let your child know how long the parade, party, or fireworks will last, so he or she will feel more in control. It's also important to provide them with a choice to opt-out if it becomes too much.
We hope your family has an enjoyable, healthy, and safe Independence Day! Want more tips for minimizing sensory overload? Check out this post!