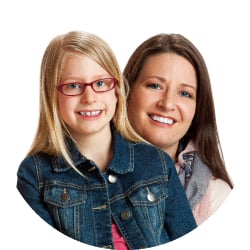 Brookelyn, 5
Diagnosed with/Exhibiting:
The one-on-one attention was definitely what Brookelyn needed. She started calling Brain Balance her brain gym. She loved it.
Brookelyn was very unmanageable.
The doctor diagnosed her with ADHD. I couldn't let my teenage kids watch her. She was very impulsive and insistent; you couldn't keep her attention. I saw the potential of how bright she could be, but I couldn't get it out. She couldn't tell right from wrong. We tried multiple medications and I hated the side effects. I found the book, Disconnected Kids, and told my husband, "I want to do the assessment and see what we find out."
I was blown away with how Brain Balance was able to explain to me what was going on. I knew we needed to do this now or we were going to spend the rest of our lives paying for tutors and therapy. The one-on-one attention was what Brookelyn needed. Everybody at Brain Balance became family. They were phenomenal in helping us step by step. They were always encouraging and supportive. With the help of Brain Balance and their tools, they can set your child up for success. Brookelyn is doing phenomenal in school now. She's a completely different kid. Anybody can have that. The assessment shows the ins and outs of a child and explains what is going on. They can help your child overcome the battles they're dealing with so they can reach their greatest potential.
Brain Balance students progress an average of 2.6 levels in 3 months for sensory motor exercises. On average, customers surveyed rated their satisfaction at 8.5 on a 10 point scale.