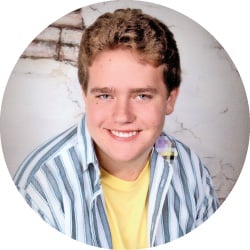 A.J., 15
Diagnosed with/Exhibiting:
High-functioning autism
ADHD
ODD
Compulsiveness
Learning delays
I asked A.J. what it felt like with his new balanced brain and he says, "Mom, I feel crisp. We are still all-in!
A.J. was diagnosed with high-functioning autism at three and a half years old.
By first grade, A.J. was also diagnosed with ADHD and ODD. He had an individual education plan at school, as well as a one-on-one aide. He was overwhelmed by homework, had poor grades, and had trouble doing simple tasks like tying shoes, buttoning buttons, and writing. Once A.J. was in third grade after diet changes alone did not help, we finally put him on medication for his compulsivity and attention span issues. We worked hard to minimize A.J.'s negative symptoms to give him the best shot at a productive, happy future. We thought we had tried it all. Then my friend (lovingly) recommended I read the book, Disconnected Kids. She suggested the book and the program thinking it could be a game-changer for my son. It made sense to me.
I then began searching for the Brain Balance program. When I made an appointment, I realized that it was the first time that this was about fixing A.J.'s problems, not just working with him to cope with them. After that, we were all in. A.J. knew what was expected of him and knew that it wouldn't be easy. It was only two weeks into the program, and I had thought someone did A.J.'s homework for him because I could read it. He went from being mentored in his social skills class to becoming a mentor himself. Everyone was astounded by the changes and how well put together A.J. became. He has plans for himself: where he wants to go to school; what car he would like to drive; and he also gave up video games. Most importantly, A.J. is no longer prescribed medication. None.
Brain Balance students progress an average of 2.6 levels in 3 months for sensory motor exercises. On average, customers surveyed rated their satisfaction at 8.5 on a 10 point scale.