Support Every Step of the Way
One thing you will never be at a loss with at Brain Balance is the complete support of our staff. We work with a very diverse set of kids every day. For years we've worked with many different challenges and behaviors, without judgment, using our experience to help every child and every parent find success within our program. You will never feel out of place, or out of line when you ask and need help.
Brain Balance has two distinct parts — Scheduled activities at the Center, where your child will visit us three times a week, and at-home activities that are equally important for your child to complete. Brain Balance provides everything you need.
It All Starts With Your First Orientation Meeting
After enrollment, you will receive a comprehensive Program Guide. The Program Guide is also available online and includes all of the information that you'll find in the hard copy, and additional assets for downloading and communicating with others. You will have access to the information you need to answer almost any question about Brain Balance.
When You Get Home The Support Continues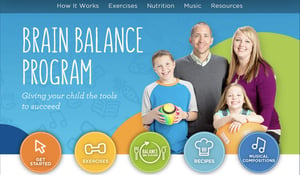 At home, we provide 'hands-on tools' to administer the program. The tools are designed to keep your child and you, as parent and coach, successfully in control of program activities.
Here are some of the helpful tools available:
Access to the

Program Guide

assets online. The website also works well on your tablet or mobile phone. Here you will find a large volume of downloadable support tools to help you administer the program.

The Balance 360 Clean Eating Nutrition System

— All the guidance and support to get your child and your family eating well too.

Exercise videos

— to guide and support you in the home exercises and activities. The videos are easily accessible online and you are able to watch the videos on your tablet or mobile phone.

Our

Exercise Companion

takes the exercises and summarizes how to do each individual exercise in a compact booklet, small enough to take with you on trips or use in your home.
Our Online Community Is a "Two-Way" Destination For Parental Support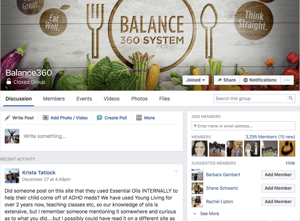 Our online community provides access to other parents who, like you, have questions and concerns. It is a great place to share thoughts…recipes…and hear thoughts from others, and possibly learn some new recipes on days when you need a little help. You will have access to a nutrition coach who provides helpful suggestions, tools and programs you can follow. Whether it's "How to get your child to eat more vegetables" or "What do I do for my child's packed lunches?" – help is always there.
Our Goal Is To Support You and Listen As Well
At Brain Balance, we know that change is difficult. We encourage you to ask us questions and share your thoughts with us. We understand what you have to manage and what you go through. And this is why we have built a program that puts emphasis on supporting parents.
Learn more about Brain Balance today.