Brain Balance establishes a unique plan for each child that includes sensory, motor, cognitive and academic activities that work together bolster a child's developmental deficits. What is unique is that Brain Balance brings all these activities together in one program, including monitoring and reporting on a child's progress.
Key Components of the Program:
Integrated approach

Personalized Brain Balance Assessment

Sensory, Motor and Academic activities

Balance 360 Clean Eating Nutrition System

The In-Center Team
Continuous Support For You and Your Child
Brain Balance is here to support you and your child every step of the way. Your local Center is always available to help and you should never hesitate to contact the Center with questions or concerns. We not only want to hear from you, but we also want to keep you apprised of how your child is doing over the course of the program. We keep you informed and provide guidance by scheduling frequent meetings with your local center team.
The Brain Balance Online Community
The Brain Balance Facebook community is a wonderful place to engage in a dialogue with other parents who, like you, will have some great days and some challenging days. This is a place to share your thoughts, get some new recipes and maybe some occasional help with issues or situations that parents like you have been faced with.
You'll even have access to a Nutrition Coach who provides helpful suggestions, tools, and programs you can follow. Whether it's "How to get your child to eat more vegetables" or "What do I do for my child's packed lunches?" – help is always there for you.
See Improvements in Your Child
New research published in the Journal of Mental Health and Clinical Psychology suggests that Brain Balance is an effective, non-drug option for reducing and improving emotional and developmental challenges.
The study focused on children who were at or below developmental milestones and evaluated the changes in their behavior before and after undergoing 5-6 months of the Brain Balance program.
The findings revealed that nearly all the children who participated in the program showed improvements in mental well-being, with most categories reaching an average of 40-50% improvement.*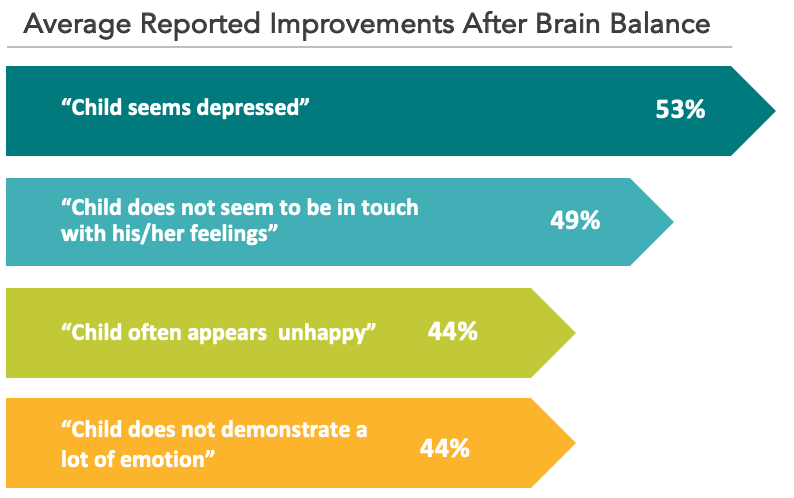 We have helped more than 50,000 individuals get to the root of their struggles.
*Journal of Mental Health and Clinical Psychology
**Data as of March 2020