By LAURA CARROLL
LAS VEGAS BUSINESS PRESS
Inside Brain Balance Center of Henderson, children with learning challenges are helped without the use of drugs.
Executive director Susan DeVito, operated a chiropractic practice in the New York from 1988 to 2003, where she cared for children with learning challenges. After selling her practice and moving from New York to Nevada in 2004, she became a motivational speaker, business and life coach. In December 2011, she opened her Brain Balance franchise in Henderson.
Brain Balance, headquartered in Jersey City, N.J., is a franchisor with about 60 nationwide locations. Its focus is on helping children with learning challenges such as attention deficit disorder, attention deficit hyperactivity disorder and autism. DeVito was introduced to the Brain Balance business in 2010 after reading "Disconnected Kids" by Robert Melillo, who founded and created Brain Balance.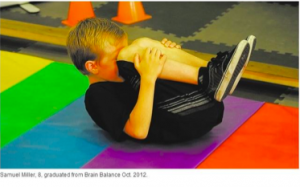 The book spoke to her, she said, for its take on treating children with learning challenges without drugs. "That really turned me on," DeVito said.
She traveled to the New Jersey corporate office and made her choice to become a business owner for a second time. Startup fees to open a Brain Balance franchise vary from $200,000 to $250,000. The company's been around for about 10 years, but expansion mostly has happened in the last five.
At her Henderson location, 11 S. Stephanie St., DeVito sees up to 50 children during her busy summertime season. During the school year she's steady, but said enrollment drops a bit. Hers is the only Brain Balance in the state of Nevada, with a capacity for 75 children. She employs six people.
"We have a great need here for children with developmental challenges," said DeVito, who added that she'd like to grow her business.
"Ultimately we do want to expand to the other side of town to make it more convenient," she said. "When that expansion happens I can't tell you right now."
Programs for students last from 12 weeks to a year, depending on the students' individual needs. Most 30-minute sessions are two pupils to an instructor, but those with extra special needs go one-on-one.
"One size doesn't fit all," DeVito said.
Each student receives an assessment of sensory cognitive functions of the brain to better understand why a child is challenged. Visual tracking, touch sensation, fine and gross motor skills are among 23 different activities evaluated.
As part of enrollment, Brain Balance staff members make a school visit, and meet with each child's teachers to help build a bridge between school and home.
"We're here to help solve the problem," DeVito said.
Contact reporter Laura Carroll at lcarroll@reviewjournal.com or 702-380-4588. Follow @lscvegas on Twitter.