Current and Ongoing Research
Learn more about current research studies in progress and findings. Be sure to check back often, as this page is continuously updated with the latest findings.
Harvard University's McLean Hospital Study Shows the Brain Balance Program® is as Effective as Stimulant Medication in Alleviating ADHD Symptoms in Children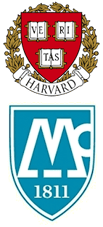 The Brain Balance Program® was part of an exploratory research study conducted by Harvard University's McLean Hospital. The research study is focused on the impact of aspects of the Brain Balance program on Attention Deficit Hyperactivity Disorder (ADHD).
Harvard University researchers examined ADHD symptoms in children before and after participation in a home-based Brain Balance Program.® The study revealed comparable results similar to those of a low-dose drug often used to treat the symptoms of ADHD.
"The Brain Balance training had clinical, behavioral, and neurobiological effects on par with pharmacological treatment. This is very encouraging as we believe that the ultimate goal in psychiatry is to develop non-pharmacological treatments for psychiatric disorders that exert enduring beneficial effects," wrote Dr. Martin Teicher, associate professor of psychiatry at Harvard University and lead investigator of the study.
The results of this exploratory study are promising for individuals diagnosed with ADHD as an alternative to drug therapies currently being used for the management and treatment of ADHD.
These measures revealed a significant reduction in ADHD index scores, discernible changes in hyperactivity, enhanced cognitive attention, and smaller-scale reductions in oppositional behavior. Read a full summary of this exploratory study and access the white paper.
The Harvard University McLean Hospital team is continuing their research and additional findings will be shared here as they become available.