Brain Balance Program Results & Research
Current and Ongoing Research
Learn more about current research studies in progress and findings. Be sure to check back often, as this page is continuously updated with the latest findings.
Harvard University's McLean Hospital Study Shows the Brain Balance Program® is as Effective as Stimulant Medication in Alleviating ADHD Symptoms in Children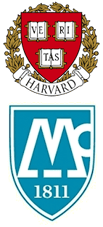 The Brain Balance Program® was part of an exploratory research study conducted by Harvard University's McLean Hospital. The research study is focused on the impact of aspects of the Brain Balance program on Attention Deficit Hyperactivity Disorder (ADHD).
Harvard University researchers examined ADHD symptoms in children before and after participation in a home-based Brain Balance Program.® The study revealed comparable results similar to those of a low-dose drug often used to treat the symptoms of ADHD.
"The Brain Balance training had clinical, behavioral, and neurobiological effects on par with pharmacological treatment. This is very encouraging as we believe that the ultimate goal in psychiatry is to develop non-pharmacological treatments for psychiatric disorders that exert enduring beneficial effects," wrote Dr. Martin Teicher, associate professor of psychiatry at Harvard University and lead investigator of the study.
The results of this exploratory study are promising for individuals diagnosed with ADHD as an alternative to drug therapies currently being used for the management and treatment of ADHD.
These measures revealed a significant reduction in ADHD index scores, discernible changes in hyperactivity, enhanced cognitive attention, and smaller-scale reductions in oppositional behavior. Read a full summary of this exploratory study and access the white paper.
The Harvard University McLean Hospital team is continuing their research and additional findings will be shared here as they become available.
Complete the form to learn more about the Brain Balance Program.
Cambridge Brain Sciences

Research Shows Significant Cognitive Gains for Students with Attention & Developmental Challenges
Cambridge Brain Sciences collaborated with Brain Balance on a study to understand the cognitive impact of the Brain Balance program on kids with attention and developmental challenges. Results from the study show that children who completed three months of the Brain Balance Program displayed significant improvements in cognition, particularly in areas of memory, reasoning, verbal ability, and concentration. There are also significant improvements in cognitive performance when comparing the participants who completed three months of the program to those who completed an average of just 27 days of Brain Balance Program. Read the Summary of the Cambridge Brain Sciences Study.
Journal of Mental Health & Clinical Psychology
Research published in the Journal of Mental Health and Clinical Psychology suggests that the Brain Balance Program is an effective, non-drug option for reducing and improving emotional and developmental challenges like anxiety, ADHD or autism.

The study focused on children who were at or below developmental milestones and evaluated the parent-reported changes in their behavior before and after undergoing 5-6 months of the Brain Balance program. The findings revealed that nearly all the children who participated in the program showed improvements in mental well-being, with most categories reaching an average of 40-50% improvement. Learn More.
Home-Based Brain Balance® Program Research
Brain Balance has recently begun a study, in collaboration with researchers at University of California San Francisco (UCSF), to assess the impact of the home-based Brain Balance program in improving outcomes in a population of children with attention and cognition difficulties.
Relevant Research from University of Cambridge
In a study that was not associated with Brain Balance, scientists from the University of Cambridge found that weak connectivity between different regions of the brain may be the reason why some children struggle. The severity of the learning difficulties were strongly associated with connectedness of brain hubs, suggesting that the connectivity between these hubs plays a key role in passing information between different areas of the brain. Learn more.
Brain Balance Program Research Booklet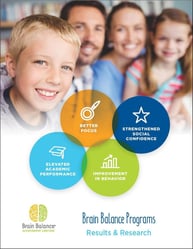 For the past decade, Brain Balance has helped more than 45,000 families answer the question, "How can I help my child do better with focus, academics, behavior, anxiety and in social settings?" Read the Research Packet.