Screen Time by Age Guide
Screen-Free Activities Promote Development
If you're a parent with kids living in the digital world, there's a good chance you've given screen time a second thought. While technology has many benefits, when it comes to screen time for children, too much screen time can lead to harmful effects including obesity, sleep disturbances, trouble staying calm and educational challenges. It can also adversely affect brain development, as children spend less time playing or engaging in physical activity. This especially affects children with ADHD or other learning differences.
Giving a child or teen time away from screens provides an opportunity to burn energy outside, get to know new friends, and enjoy more creative or academic activities.
At Brain Balance, we recommend limiting your child's screen time to no more than one hour per day.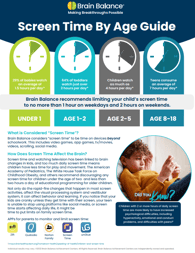 Download our guide to learn more about:
Why it is important to put limits on family screen time
Screen-free activities that promote healthy brain development
Fill out the form to download the guide.