Behavior Chart for Kids
A Behavior Chart Can Help Create Structure
A child with behavioral issues can be challenging and frustrating for the entire family. As a parent, you may notice that if you don't maintain a strict daily structure your child's behavior can worsen and your child may become more difficult to manage. Consistency and structure are necessary components of any child's healthy development especially kids with behavioral challenges.
One behavioral technique to help keep your child on track is to document their behavior both good, needs improvement or neutral. Behavior charts are one of the fastest and easiest behavior modification tools available today. Most children love the immediate feedback these reward charts offer, which helps keep them motivated.
Our behavioral chart includes suggested behaviors to enforce with easy to follow graphics that shows your child's daily behavior.
Keep in Mind: Often behaviors can be a red flag to gaps and holes in your child's development. If behavioral strategies are not changing your child's behavior, this may be the time to dig deeper to find out if there is an underlying cause to these behaviors so you can address the cause, not just the outcome. Learn more about how Brain Balance gets to the root of the issue to help your child uncover their potential. Watch our video to see what makes our program unique!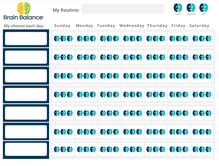 Fill out the form to download our behavior chart to help your child stay on track!
Fill out the form to download the chart
How to Design a Behavior Chart That Works
Behavior charts are one of the fastest and easiest behavior modification tools available today. Most children love the immediate feedback these reward charts offer. It's also designed to help them stay on track.
Keep in mind, the goal of behavior charts is not to embarrass or shame your child. Hearing a statement like, "you only got one sticker and your sister got five," isn't going to encourage your child to modify their behavior and do better in the future. The goal of a behavior chart is to slowly reinforce expected behaviors and to eliminate the back-and-forth argument that comes from debating undesirable behaviors.
The good news is, there are steps you can take to create a behavior chart that gives your family a behavior-shaping tool. Some tips to help you do this are found here.
Make the Desired Behavior Known
To start, select the behavior you want to address. It's a good idea to start with something simple. By selecting three behaviors you want to address, you can keep your child on track. If you try to work on too many at once, the entire system will get confusing. Be sure that you remain specific. Just saying "be good" isn't going to work, as your child won't know exactly what you mean. Instead, state what it is that you want your child to do in terms they understand for their age or maturity level.
Evaluate the Chart Structure that will Help Reinstate Good Behavior
Ask yourself this question: Does my child understand that his/her negative behaviors have consequences?
If the answer to this question is "no", consider structuring your child's behavior chart differently in order to help encourage the understanding of consequences to behaviors and of "why" we want to follow household rules. Start the day with the reward be a given, but take the reward away when the behavior or house rules are broken.
Determine How Often the Reward will be Given
Consider how often your child will require feedback for their good actions. If your child is younger, they may need some type of visual affirmation, such as a star, checkmark, or sticker that lets them see their progress a few times each day. However, older children may be able to wait the entire day to receive feedback.
It may be necessary to reward your child in the mid part of the morning, the later part of the afternoon, or the evening. Otherwise, you can divide the day into three distinct parts – before they go to school, after they get home from school and bedtime.
Identify a Meaningful Reward
While a sticker chart, and the subsequent reward being the gaining of a sticker, may be enough to motivate a child in pre-school, the majority of children will want to trade in their stickers for a larger reward.
It is important to identify the reward that is meaningful enough to motivate your child. However, this doesn't mean the reward has to be expensive. There are several low-cost and free rewards that are also extremely effective. Some low-cost examples that reinforce quality family time include: setting aside one hour of family time where your child gets to make the rules or choose the family game. It is also important to be sure to change the reward often, as your child's interests and maturity level will change. What is a meaningful motivator one day may not be a meaningful motivator the next.
By creating a behavior chart that offers rewards for your child, you can motivate them to continue acting the right way. Be sure to use the tips and information here to do just that. If your child is unable to stay on task or constantly refuses to follow household rules, consider The Brain Balance Program. We've helped over 50,000 kids and their families and can help yours too!