Brain Balance Lake Mary Reviews & Testimonials

Reviews & Testimonials from Brain Balance Lake Mary Families
---
---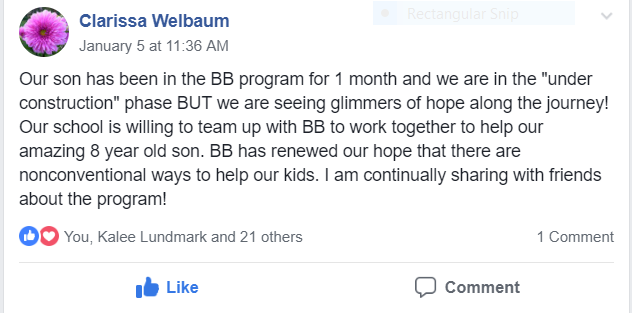 ---
Brain Balance has been such a blessing. Our son was diagnosed with ADHD & anxiety. Every school year, it seemed he'd lose two years' worth of learning. He'd get to two years ahead by the end of the school year, but by the new year, he'd flounder. The teachers and doctors just kept throwing more medications at us. We've always known he was gifted, but the schools never saw it. They saw a "busy boy". With the help of Brain Balance, Eli has been able to come off all of his medications and he has learned coping skills when anxiety strikes (much less often than before). His angry outbursts have lessened substantially. It is refreshing to see how happy he is. I heard him laugh about halfway through the program. We had forgotten how rarely he was laughing. It was a beautiful sound!! He is less clumsy, too!!
– Karen D., Brain Balance Parent
---
Olivia received her first bike when she was 5 years old. She could not ride it even with training wheels because her balance and coordination was so bad. After about 2 years she could finally ride with training wheels, but we never thought she would be able to get rid of the training wheels. 3 months after starting Brain Balance, Olivia was able to ride her bike without training wheels. She is doing so well and is so confident. We are so happy and hopeful about the progress Olivia is making at Brain Balance.
– Elizabeth D., Brain Balance Parent
---
Natalie has shown improvement in eye contact and a lot more verbal than she used to be. She actually skips and started to run when she never did before. At school, I would pick her up for aggressive behavior but since she started the program school has reported nothing but inappropriate touching and loud vocals. Tremendous improvement at school. I look forward to see what else she can accomplish.
– Kerlin Q., Brain Balance Parent
---
Brain Balance has made positive changes for my son Hezkel. He lives a healthy life now with good nutrition and exercises provided by Brain Balance. He can do sports including riding a bike, basketball, soccer, and swimming. His balance has improved a lot so he can do many of these things with ease. His comprehension is improving as well. He is able to have a two-way conversation now. He has better eye contact and he can recognize others emotions. He is interested in meeting new people. We hope his social skills will improve after the program is finished so we can go back to a normal routine and he can go back to school.
– Hendri S, Brain Balance Parent
---
My husband and I started to worry about our son Joel's behavior ever since he was three years old. We thought it was just going to go away in a few years. Instead, it was getting worse especially when he started pre-school. He was very hyper and would hit people for no reason. He would even destroy school property. We were called by the school various times due to his behavior and would have to pick him up early. His behavior was getting worse and when he reached third grade we finally took him to a psychologist for an evaluation. He was diagnosed with ADHD and a learning disability and was put on medications. The medications side effects were causing him to lose his appetite and as a consequence he wasn't eating like he used to. He also became more aggressive.
One day, I was listening to 107.7 on the radio and they mentioned Brain Balance. It caught my attention and I decided to give it a try. At first, I was adamant because of the cost. I asked myself "What if this doesn't work?". But I was a concerned parent and I decided to give it a shot anyway. I honestly thank myself for taking the leap of faith. The staff was excellent. We saw a huge difference with his behavior within two months of care. We have seen improvements with Joel everyday with Brain Balance. They just knew and identified which part of the brain Joel needed the most attention and targeted that side with programming to manage the balance his brain was missing and needed.
At Brain Balance, the staff knows how to detect the root issues of where bad behaviors stem from and how to create a balance for a better-behaved child. We were very impressed by this. We followed all the home programming and home exercises Brain Balance provided us. By 7 weeks of care, I dropped Joel's medication off 2 days of the week leaving him to only take his medication 3 days a week instead of 5. I noticed that the days I did not give him the medication he was better off than the days he did take them. The time came where I became more confident and took him completely off the medications. He had no incidents at school and he began to understand the consequences of his actions. His teacher even noticed he was paying more attention in class and called me to tell me that his listening skills changed, he was following direction in class, and was even eating his lunch. I told his teacher I had taken Joel off his medications because Brain Balance helped us find the problem and manage it appropriately with the correct care. It was such a blessing to see all these changed and we are extremely happy with the results. Joel is doing good and he is more responsible. Thank you Brain Balance!
– Kadidia M., Brain Balance Parent
---
Our daughter, Charlotte was diagnosed with autism at the age of three. Her diagnosis was later changed to Asperger's Syndrome when she was six years old. Charlotte has been in ABA therapy, occupational therapy, social skills group, and other educational interventions since the time of her initial diagnosis. We witnessed tremendous progress with Charlotte with traditional interventions, however Charlotte continued to struggle with anxiety, self confidence, and developing relationships. In general, Charlotte seemed unhappy and that was difficult to endure as a parent. It was heartbreaking to hear her talk negatively about herself, to watch her remain on the outside of her class and peer group.
Charlotte's anxiety and negative self-talk intensified last year and so when a friend told us about Brain Balance, we were immediately interested. Having exhausted so many resources and after years of shuttling Charlotte to a variety of therapies; my husband and I had become cautiously optimistic. We arrived to Charlotte's initial assessment skeptical but willing to give it a shot.
We are now nearing the end of Charlotte's six month program with Brain Balance and I can not believe the breakthroughs we have experienced. Charlotte is consistently making eye contact with those with whom she speaks. She no longer engages in negative self talk. Her teachers and I have seen her progress academically. Her self-confidence grows every day. Charlotte brought us all to tears when she decided to audition for the Christmas program at her school. She had never expressed even the smallest interest in participating in a school production and here she was wanting to audition. I can tell you, there was not a dry eye in the auditorium when we watched her walk onto the stage and belt out a song in front of a large audience. The best part was the smile on her face when she finished. Charlotte has opened up to her peers. She now has a best friend with whom she sits with every day at lunch. She was invited over for her first playdate a few weeks ago. Our family is so grateful to have this happy, confident girl. Charlotte still has her struggles but she now has the confidence and the communication skills to work through them. We are so thankful for the amazing staff at Brain Balance. We are getting to know a whole new side of our daughter and it is so exciting. She is connecting with us and with others and that is truly a gift.
– Sarah C., Brain Balance Parent
---
"My 9 year old daughter has been in brain balance for month. She has improved in speed, strength and motor skills. Gigi, couldn't even push a commercial door open. Now she is able to without any problems. Also, she is only taking 20 minutes doing her Kumon work! Before it would take her two hours. We're very thankful for Brain Balance! Can't wait to keep seeing her progress."
– Tracy Sanchez mom, Brain Balance Parent
---
"Brain Balance of Lake Mary has been fabulous to us. The staff is amazing! The program has done wonders for our son academically and socially. He went from being very shy and quiet with everyone he didn't know to talking up a storm to everyone he meets. He has grown so much since we started this program and we couldn't be happier with his progress. Thank you Brain Balance of Lake Mary!!"
– Ashley Roach mom, Brain Balance Parent
---
"Our family journey at Brain Balance has exceeded my every expectation. The support and positive encouragement has been the sugar free icing on the gluten free cake! This program has led to increased communication, ability to express his feelings and overall joy in life. Highly recommend!!!!"
– Jill Anderson mom, Brain Balance Parent
---
"Our son has come such a long way since entering Brain Balance. The shy, rare to talk soft spoken person is gone. The person afraid of riding a bike is gone now, too. (He just hops on and goes, now) We can thank all of the staff enough for the work they have done over our journey."
– Vincent Shuring dad, Brain Balance Parent
---
"It's really difficult to sum up into a few words how thankful we are for brain balance and how much it's changed the life of our son and our family. Marco started sessions the week he turned 5. He's always been extremely bright and so loving, but he's had severe anxiety and couldn't handle change. He would even struggle and cry when getting a new pair of shoes or clothes. He also struggled with echolalia (repeating himself excessively) and had trouble communicating. When we spoke to him he would sound like he was reading from a script when he'd respond (we could tell because he'd be quoting cartoons – even with the accents of characters haha). He just couldn't figure out how to form spontaneous dialogue. We were at the park and he went up to another boy and said 'Hey friend, it's Marco.' Other kids didn't know how to respond to him – but even if they did and said hi, he'd just repeat the same thing – 'Hey friend, it's Marco.' It was sad to see him struggle to connect.
After the first couple months of Brain Balance, his preschool teacher pulled me aside to tell me that she was seeing a change in him. She said when the school year started he wouldn't talk much at all, and at recess he'd play along side the other kids but not interact with them. She said now he has a best friend and when they go out for recess she'll hear him yell excitedly to the other kids to play. My heart about burst hearing that.
I can also have an actual conversation with him these days. He no longer reads from a 'script.'
We've had friends, family, and primary (church) teachers notice a difference in how much more social he's become.
Also, an enormous change we've seen is his willingness to try new foods. When we started he was only really eating ritz crackers and drinking milk (other than when we'd let him have dessert, but even then he was unbelievably picky). In the past, if we forced him to try something he would gag and throw up, then he'd go into his room and climb under his covers and fall asleep. My husband and I agreed that we knew he would be such a happier kid if we could just get him to eat a normal meal. Brain Balance helped us work on getting him to smell things and open his smell sensory.
We still have a ways to go, but the change in his willingness to try new foods has been phenomenal. And he is a happier kid.
The change that Brain Balance has brought to our lives has been a miracle to us. We love the staff in Lake Mary who've been working with Marco. We can tell they truly care about him reaching his full potential.
I know there are some things I'm leaving out of this long review (because there are just so many wonderful changes happening) but I do want to add this…. when we started the program, I felt like I had to come to terms with the fact that I have a child with special needs – of course, not that there's anything wrong with that at all. You just worry so much about your kids and don't want to think anything could ever hold them back from becoming anything they'd like.
About 4 months into his therapy, I realized I no longer have a kid with special needs. He's changed for the better. He is still the same sweet and silly boy that we adore, but without the anxiety.
I am forever grateful to Brain Balance. ❤️"
– Wendy Risquez mom, Brain Balance Parent
---
"We are so thankful we met Brain Balance!!!! My daughter struggled through school. The anxiety of just beginning each school day was extremely high. She was 9 and had poor eye hand coordination, difficulty with short term memory, couldn't ride a bike, often misunderstood what others were actually meaning unless it was literal and all of that compounded the anxiety and a feeling of inferiority among her peers. Being an elementary teacher of 30 years, I knew in my heart there had to be a better way to help her. I had tried many kinds of evaluations to discover what she was actually thinking in her brain to help her become more successful academically and emotionally. I had her evaluated for: speech and language, occupational therapy, vision therapy, got a 504, counseling, and academic testing. The school provided the support they could but it still wasn't enough for her to feel and be successful. She was attending the same school where I taught so she was getting the best of the best education could offer. Her teachers and support team bent over backwards to help her and I can never thank them enough for all that they did. However, the support wasn't enough for her. There just HAD to be a way to help her!!!
Again, thank goodness we met Brain Balance!!!! After her evaluation, the principal gave permission for Brain Balance to be a Tier 3 Intervention and I was allowed take her out of school an hour early to go to Brain Balance.
We were only a few weeks into Brain Balance when I realized our first breakthrough- with tears in my eyes, Natalie was actually doing something she was terrified to do – she rode up and down an escalator in the mall. She was so excited that she did it again and again and again…
Sure there are peaks and valleys with any learning curve, but what she can do now is AMAZING and I attribute it all to Brain Balance. She can now: play with more than one friend at a time, ride escalators, happily dresses herself in the morning, write small, track words on a page, multiply numbers, comprehension has soared, tie her shoes, ride a bike, go to sleep without getting up again, work independently for longer periods of time, ice skate, roller skate, enjoy coloring, do monkey bars, bounce a ball with one hand, and the list continues to grow. We're not even finished so I can't wait to see where she ends up!!
Finally: relief, a happy child, a happy family, a child that loves to learn!
– Nancy Fraser, Brain Balance Parent
BRAIN BALANCE CENTER OF LAKE MARY
Brain Balance helps children who struggle behaviorally, socially, and academically through a holistic and integrated approach that is customized to meet the needs of each child.
Location
1011 W.P. Ball Blvd.
Sanford, FL 32771
Hours
MWF: 10:00 AM – 7:00 PM
T/Th: 10:00 AM – 5:00 PM